Kelly: Tyre test gamble paying dividends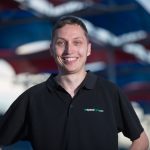 Rick Kelly has attributed his impressive pace at the Clipsal 500 to the way Nissan Motorsport has adapted to the new-for-2017 Dunlop tyres.
Kelly appears to have adjusted to the new construction Dunlop tyres quicker than most after qualifying third in Saturday's session.
This came after finishing inside the top three in both practice hit-outs, while Kelly topped the official tyre test at Sydney Motorsport Park last month.
The 2006 Supercars champion has revealed his team elected to spend more time on the new tyre compared to their rivals at the test, which he feels is displayed in his results on the Adelaide streets.
"I think to be honest the tyre is a big factor for us," said Kelly.
"It's certainly a big opportunity for us to capitalise on the tyre quicker than others, so we began working on what that might look like.
"Obviously we didn't get to run the tyre and we didn't get the tyre data until a few weeks ago.
"We did a lot of miles on the new tyre at the test day, I think a lot of people didn't opt to run the tyre due to the tyre bank restrictions and stuff.
"We did, so we're a little bit tyre-starved from now on but I felt that we learned a lot from it, so I think that shows just a little bit of that (in the results)."
Kelly will have the opportunity to show his pace again in today's Armor All Top 10 Shootout which will determine the grid for this afternoon's 250km opening race of the season.
While confident on the new tyres, the 34-year-old is eager to see how the tyres will last in the punishing heat during the 78 lap race.
"I'm really excited and interested to see how that race plays out on that new rubber because I think it will be a little different, behaviour-wise, throughout the race stint to what we had in the past," he added.
"My strength has been, in previous years, as a racer more so than a qualifier.
"I think the racing thing from my point of view should be the easier part to some extent.
"However, it does depend on how that tyre behaves because I expect it to be slightly different to what we have had in the past."
Kelly will take part in Practice 3 (1005) ahead of the Top 10 Shootout (midday), while Race 1 is scheduled to start at 1520 local time.