SVG pips McLaughlin in Clipsal qualifying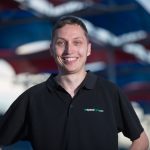 Shane van Gisbergen edged Scott McLaughlin by the narrowest of margins in the opening qualifying session of the 2017 Virgin Australia Supercars Championship.
The Red Bull Holden Racing Team saved his best until the dying minutes to post a record 1:19.78s effort which was one ten thousandth of a second faster than DJR Team Penske's McLaughlin.
"The car was not good this morning but we really worked at it, the car is awesome and pretty fast on this new tyre, I am really liking it," said van Gisbergen.
"It is not pole yet, but we are in the shootout and feeling really good.
"It is definitely (game on), I followed Scotty's car earlier today and it just looks like one of ours, obviously Ludo has plugged a bit of that set-up in, but, they are doing really well, they are up there and we expect them to be.
"It is good to have great competition and fighting hard for it."
The full grid for the opening race of the season will be determined by Saturday's Top 10 Shootout held at midday local time.
Rick Kelly was among a group of drivers to make the most of final runs to leap up to third ahead of Mobil 1 HSV Racing's James Courtney.
Prodrive Racing's Chaz Mostert climbed up to fifth in the dying minutes in front of fellow Ford runner Fabian Coulthard.
Jamie Whincup had struggled for pace early in the session but the six-time champion managed to secure a spot in the top 10 shootout in seventh.
The top 10 was completed by Mark Winterbottom (Prodrive Racing), Cameron Waters (Prodrive Racing) and David Reynolds (Erebus Motorsport).
A number of notable drivers missed out on the shootout including Craig Lowndes, who was 13th behind Brad Jones Racing duo of Nick Percat and Tim Slade.
Stewards will investigate an alleged blocking incident between Garry Rogers Motorsport's Garth Tander and his Mobil 1 HSV Racing replacement Scott Pye after the session.
Results – Qualifying: Virgin Australia Supercars, Clipsal 500
| | | | | | |
| --- | --- | --- | --- | --- | --- |
| 1 | Red Bull Holden Racing Aust | Shane Van Gisbergen | Holden Commodore VF | 01:19.8 | |
| 2 | Shell V-Power Racing Team | Scott McLaughlin | Ford Falcon FG/X | 01:19.8 | 00:00.0 |
| 3 | Sengled Racing | Rick Kelly | Nissan Altima | 01:19.9 | 00:00.1 |
| 4 | Mobil 1 HSV Racing | James Courtney | Holden Commodore VF | 01:19.9 | 00:00.1 |
| 5 | Supercheap Auto Racing | Chaz Mostert | Ford Falcon FG/X | 01:19.9 | 00:00.1 |
| 6 | Shell V-Power Racing Team | Fabian Coulthard | Ford Falcon FG/X | 01:19.9 | 00:00.1 |
| 7 | Red Bull Holden Racing Aust | Jamie Whincup | Holden Commodore VF | 01:19.9 | 00:00.1 |
| 8 | The Bottle-O Racing Team | Mark Winterbottom | Ford Falcon FG/X | 01:20.0 | 00:00.3 |
| 9 | Monster Energy Racing | Cameron Waters | Ford Falcon FG/X | 01:20.0 | 00:00.3 |
| 10 | Erebus Penrite Racing | David Reynolds | Holden Commodore VF | 01:20.1 | 00:00.3 |
| 11 | Team Clipsal | Nick Percat | Holden Commodore VF | 01:20.1 | 00:00.3 |
| 12 | Freightliner Racing | Tim Slade | Holden Commodore VF | 01:20.2 | 00:00.4 |
| 13 | TeamVortex | Craig Lowndes | Holden Commodore VF | 01:20.2 | 00:00.4 |
| 14 | Nissan Motorsport | Michael Caruso | Nissan Altima | 01:20.2 | 00:00.5 |
| 15 | Wilson Security Racing GRM | Garth Tander | Holden Commodore VF | 01:20.2 | 00:00.5 |
| 16 | carsales Racing | Todd Kelly | Nissan Altima | 01:20.3 | 00:00.5 |
| 17 | TEKNO Woodstock Racing | Will Davison | Holden Commodore VF | 01:20.3 | 00:00.5 |
| 18 | Mobil 1 HSV Racing | Scott Pye | Holden Commodore VF | 01:20.3 | 00:00.6 |
| 19 | Wilson Security Racing GRM | James Moffat | Holden Commodore VF | 01:20.4 | 00:00.6 |
| 20 | Preston Hire Racing | Lee Holdsworth | Holden Commodore VF | 01:20.5 | 00:00.7 |
| 21 | Erebus GB Galvanizing Racing | Dale Wood | Holden Commodore VF | 01:20.7 | 00:00.9 |
| 22 | MEGA Racing | Jason Bright | Ford Falcon FG/X | 01:20.8 | 00:01.0 |
| 23 | Team CoolDrive | Tim Blanchard | Holden Commodore VF | 01:20.8 | 00:01.1 |
| 24 | Team Harvey Norman | Simona De Silvestro | Nissan Altima | 01:21.2 | 00:01.4 |
| 25 | LD Motorsport | Taz Douglas | Holden Commodore VF | 01:22.1 | 00:02.3 |
| 26 | LD Motorsport | Alex Rullo | Holden Commodore VF | 01:23.0 | 00:03.2 |