Aus GT Academy winner set to continue in Europe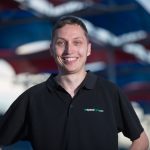 Australian Nissan GT Academy winner Matt Simmons is set to continue his motor racing career in Europe next season.
The former postal worked from Brisbane won a factory GT3 drive with the Japanese marque after winning the Nissan Playstation GT Academy competition which turns gamers into professional racing drivers.
After undergoing extensive training in the UK, Simmons piloted a factory Nissan GT-R GT3 in Europe's hotly contested Blancpain Endurance Series alongside GT Academy graduate Romain Sarazin and Brit Sean Walkinshaw.
Simmons is currently heading to Europe to finalise the details of his plans, with Nissan expected to confirm which series he will compete in on Monday.
"He's physically on a plane right now," said Nissan Australia CEO Richard Emery.
"There has been a lot of work done over the last couple of weeks to put together a programme for Matt. Over the weekend we'll finalise that programme.
"Matt showed enough last year, in terms of speed and maturity. Another year in Europe where he gets lots of time in the car on a variety of circuits is absolutely the right thing for his development.
"I think that's important. It's a nice, balanced position for him in terms of his second year in motorsport and we sometimes forget it is effectively still his second year.
"We're looking forward to how he performs this year."
Simmons was tipped to head up a factory Nissan effort in the Australian GT Championship this year.
The Queenslander took part in the final two rounds of the Australian Endurance Series last year in preparation for a possible tilt.
However, these plans have been put on hold with Nissan now evaluating its domestic GT options.
Nissan Australia has two GT-R GT3s at its disposal following a twin GT-R factory effort at last month's Liqui-Moly Bathurst 12 Hour.
"What we said at the time was that if he's not required back in Europe, then we'd look at a programme in Australia," added Emery.
"But now it seems that the most likely course of action is he'll be back in action, and that's what we'll support.
"We have a couple of spare cars, so we'll need to determine what we do with those cars.
"The decision with Matt has only been bolted together in the last few days, and really we haven't thought much past getting Matt's position secured.
"Then we'll worry about what we're going to do with the Nissan Australia cars."