Douglas not expecting LDM recall after Clipsal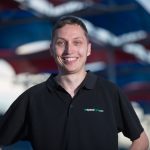 Taz Douglas has reiterated his last minute deal to drive for Lucas Dumbrell Motorsport is a one-off at this stage with the team's 2017 plans yet to be resolved.
The 33-year-old has found himself in the unlikely scenario of contesting this weekend's Clipsal 500 having originally planned to sit out the season to focus on his demolition business.
Such was the late call to pilot the #3 LD Commodore, Douglas was forced to renew his competition licence yesterday to ensure his participation in Adelaide.
LDM had originally announced that Matt Chahda would take the drive at the season launch before CAMS rejected a application for a Superlicence  dispensation.
Aaren Russell was also linked to the seat but was unable to strike a deal in time for this weekend.
Although pleased to be back in the main game, former main game full-timer Douglas admits the ideal situation for LDM going forward is to find a young driver with budget for the full year.
However, he says he will be available to compete at the non championship Australian Grand Prix meeting from March 23-26 if required.
"I haven't even thought about it (the rest of the year) as this has happened so late, so I'm not sure," Douglas told Speedcafe.com.
"Hopefully someone comes along for Lucas that has a decent budget for the year and he can press on.
"Although he is happy to have me he would much rather have a driver with a budget who can do the full year. In this current state of Supercars it is very hard to find sponsorship.
"I do live in Melbourne so it will be easy for me to get there.
"I can never say no because I am here in Adelaide and I'm addicted to motorsport and driving and whenever you pull the helmet on it is a fantastic feeling.
"I wasn't planning to do any motorsport at all and I only just renewed my licence yesterday. I'm that busy with work at the moment that I haven't got time to look for money and sponsorship to go racing.
"It is a full time job trying to find money to go racing.  I haven't been able to do that so I had put that on the back burner this year.
"Racing was not on the radar this year but it is back for this round anyway."
Douglas, who drove for LDM on a full-time basis in 2012, will spend much of today making sure he feels comfortable in the cockpit of the #3 entry ahead of this weekend's race.
Having previously driven for the squad in 2012, he is reasonably confident in adjusting to the car.
"I still use the same seat insert as in 2012 when I raced here. I have put it in and it seems to be pretty close," he added.
"It seems pretty ready to go but I'm sure when I get out there tomorrow I will adjust a few things."
Douglas is eyeing a return to full-time motor racing next year after competing in the Dunlop Series and Kumho V8 Touring Cars last year.