Ricciardo unfazed after eventful RB13 debut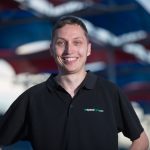 Daniel Ricciardo is confident Red Bull will step up its program when testing resumes later today, after losing valuable track time to glitches on the opening day of Formula 1 pre-season testing.
The Australian completed just four laps at Barcelona's Circuit de Catalunya before his new RB13 ground to a halt with a sensor issue.
Ricciardo's day was further hampered when a battery problem stopped the car early in the afternoon.
Despite the interruptions, Ricciardo was able to log 50 laps posting the fifth fastest time just 1.1s adrift of the pace-setting Mercedes of Lewis Hamilton.
The four-time grand prix winner confirmed after the session that Renault wanted to take precautions with the car once the sensor warning alarm was triggered.
"I'm not worried," said Ricciardo.
"I think obviously it would have been nice to do more laps in particular, but the main issues were that it was for safety measures.
"So let's say that we stopped running because of some sensor things, and they were giving us some warnings.
"I guess, especially from the engine side, we are playing it a bit safe and making sure that we don't do damage on day one. That is the main thing.
"But I think for now, the last two hours we got some good running and hopefully that continues for the rest of the test. Hopefully Max (Verstappen) tomorrow does 200 laps."
A strong run towards the end of the day has left Ricciardo feeling positive for the remaining three days of the test.
"This afternoon we were able to start to let it breathe a little bit more, and that was positive," he said.
"We racked up close to 50 laps in that last little block, so I think we took a bit away from the first run.
"It is a new car so you start to feel a few little differences.
"I think we cleaned them up already in the few runs we had, so it is just going to come with more running, and the last few hours gave us a lot of confidence going into the next day.
"We can definitely get the ball rolling from here."
Team-mate Max Verstappen will take over the running of the RB13 when testing resumes later today.