Randle joins Clipsal Touring Car Masters grid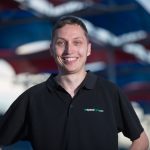 Australian single seater star Thomas Randle has secured a late drive for the opening round of the Touring Car Masters at this weekend's Clipsal 500.
The newly crowned Toyota Racing Series champion will pilot Rusty French's Skye Sands backed 1969 Ford Boss Mustang on the Adelaide streets.
The former Australian Formula Ford series winner has returned to Australia after a successful stint in Europe last year competing in the BRDC British Formula 3 Championship and selected Formula V8 3.5 rounds.
This year Randle will compete in the new British Prototype Cup where he will drive a Ligier JSP3 LMP3 for Douglas Motorsport.
However, this weekend the 20-year-old is eagerly anticipating his TCM run following a test at Winton last week.
"I am thoroughly excited to be racing on the streets of Adelaide in the Touring Car Masters," said Randle.
"I'm really looking forward to hitting the circuit for the first time, and in a completely different car that I am used to, considering I was only racing in the TRS two weekends ago.
"I would personally like to thank Rusty French for giving me the opportunity to race his mustang, and I will be giving it plenty on the streets.
"I had one test in it at Winton last weekend and everything went quite well, so it will be interesting to see how I fair against a lot of guys I grew up watching when I was a kid,"
"That being said, I will be trying to give them a run for their money."
Randle joins a bumper 30-car grid featuring the all-new Team Johnson entry for Steven Johnson.
The Touring Car Masters field will tackle three races across the Clipsal 500 weekend.