Red Bull showcases new RB13 F1 contender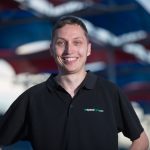 Red Bull has revealed its new RB13 which Daniel Ricciardo and Max Verstappen will campaign in Formula 1 this season.
The Milton Keynes squad is tipped to be among the title contenders this year as F1 ushers in a new era.
Heavily revised aerodynamic regulations, which will see cars produce more downforce and higher speeds, is believed to play into the hands of Red Bull led by design guru Adrian Newey.
Red Bull emerged as Mercedes' nearest rivals last season with Ricciardo and Verstappen scoring a victory apiece to break the Silver Arrows' stranglehold on the championship.
The squad elected to unveil its new RB13 challenger via an online launch.
Similar to many of its rivals, Red Bull has elected to fit a shark fin engine cover to its latest F1 design.
Four-time grand prix winner Ricciardo is a fan of the RB13's sleek look.
Having closed the gap to Mercedes last year, the Australian says his team is highly motivated to continue its progress this year.
"My first impression is that it looks quite beautiful, and definitely looks sleek," said Ricciardo.
"These cars look like the fastest cars in the world. That's the impression I get.
"We've really set ourselves up well to continue on the trend that we had in 2016. We're looking strong, we're looking good.
"Everyone is definitely in the right mindset right now and that hunger is back.
"Getting into the car next week, is kind of an anxious time, because you are like 'I really hope this car is quick' and you kind of know, you feel it after a few laps."
Meanwhile, team-mate Verstappen is hopeful the car's aggressive design will deliver results on track.
"The car looks very aggressive," said Verstappen.
"Hopefully when it looks that aggressive it will be fast, but we still have to wait and see."
The Red Bull RB13 will be in action at the first pre-season test in Barcelona which begins on Monday.
VIDEO: RB13 – Break with tradition, break superstition