Orders storms to victory in RXAus opener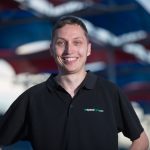 Will Orders claimed victory in the opening round of the new RXAus rallycross series at Marulan circuit in country New South Wales.
The Mitsubishi Lancer EVO driver overcame a series of technical faults during the day before taking out the first Super Final of the five-round series and the honours in the four-wheel drive class.
With the Super Final grid determined by the fastest overall times from the preceding class finals, Orders started on pole for the six-lap race alongside Irishman Michael Coyne in his rapid two-wheel-drive Mazda 2.
The race was a straightforward fight between the pair, Orders clearly quicker on the front straight and Coyne closing in through Marulan's technical sections.
In a pressure-cooker six laps, Orders won by a narrow margin in a classic all-wheel-drive versus two-wheel drive fight.
Volkswagen driver Troy Dowel, who took out the four-wheel driver Production class, edged Gold Coast teenager Sean Bolger to claim third in the Super Final.
A notable non-finisher was Justin Dowel, who despite winning three heat races and placing second to Orders in the four-wheel drive Open final, was unable to complete the Super final, parking his Hyundai i20 on the side of the circuit before half-race.
Orders, who also acts as the series technical boss, was encouraged by how the series' opening weekend unfolded.
"We were really were just shaking bugs out of the car for two practices and three heat races,"  said Orders.
"We thought the day was over but we thought 'Lets fix it and get it out for the final – that's what it was all about.'
"We had no laps and were guessing on setup on tyre pressures but it all came good.
"It's been a really positive weekend. Everyone has been very enthusiastic and supportive of what we're doing and there's a lot of interest moving forward.
"Everyone has come here and the only real damage inflicted to the cars was self-inflicted! There was no panel rubbing and really close racing so I don't think you can get much better than that."
Meanwhile, Irish Rallycross champion Coyne won the two-wheel drive Production/Open final, beating home Mike Conway's screaming Ford Escort RS.
The RXAus series returns to Marulan circuit for the second round on May 14.