Bates makes late Eggleston Motorsport GT switch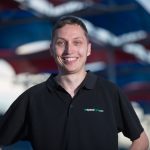 Tony Bates has made a late switch to Eggleston Motorsport for the upcoming Australian GT Championship campaign just days ahead of the Clipsal 500 opener.
The former Porsche Carrera Cup driver had originally been set to drive the Miedecke Stone Motorsport Aston Martin Vantage in Adelaide before a change of plans.
Bates enjoyed a successful test in the Eggleston Motorsport Mercedes AMG GT3 at Winton last week, which triggered his decision to switch teams.
This season will be his first full-time campaign in Australian GT having contested selected events in a Jamec Pem Racing Audi R8 last year.
"Carrera Cup is a great category and I will miss competing in the one-make class this year, however some underlying factors have led me to look to the Australia GT sprint championship this year which I am very excited about," said Bates.
Stan Sport is the only way to watch every round of Speedseries. Click here for all the action streaming ad-free, live and on demand.
"A few people told me the Mercedes was an incredible car so I had to try it for myself, but now I can see what they're talking about.
"All GT cars are impressive but this one is awesome. It has all the assets that you look for in a true race car.
"The Eggleston Motorsport team is an extremely professional outfit, as reflected by their success in V8 Development Series and other categories they have been involved in, so it's a pleasure to be associated with them this season."
Miedecke Stone Motorsport will sit out this weekend's season opener, which will see a 27 car grid contest three 40 minute races.
The squad will now focus its efforts on the Australian Endurance Championship.
Australian GT Championship Clipsal 500 Schedule
Thursday March 2
10:45 – Practice (20 min)
13:40 – Qualifying 1 (20 min)
16:45 – Qualifying 2 (20 min)
Friday March 3
10:35 – Race 1 (40 min)
Saturday March 4
9:10 – Race 2 (40 min)
Sunday March 5
9:55 – Race 3 (40 min)