Haas F1 reveals all-new VF17 design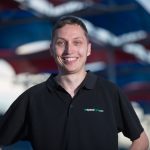 The Haas F1 team has become the latest squad to launch its 2017 Formula 1 car ahead of the opening pre-season test at Barcelona.
The American team has released official images of its new Ferrari powered VF17 which features a revised darker grey, red and black livery.
Romain Grosjean will once again lead the team with the Frenchman joined by new signing Kevin Magnussen, who replaces Esteban Gutierrez.
Haas made its F1 debut last season scoring 29 points on its way to eighth in the Constructors' Championship.
Team principal Gunther Steiner says the all-new VF17 is lighter and more aerodynamically efficient than its predecessor.
The car also features a shark fin engine cover following the bulk of the 2017 cars revealed by the team's rivals.
"I think the pedal box is the same, but all the rest is very different from last year's car," said Steiner.
"You always try to make a faster car, which is normally a lighter car. Now we can put on more ballast and get better weight distribution.
"The aero is completely new, as are the tyres, so we needed to have some built-in adjustability.
"Aesthetically, the car has a more aggressive look.
"It's lighter and more aerodynamically efficient. Everything we learned from our first car has been applied to our new car."
Grosjean and Magnussen will jump behind the wheel during the Barcelona test which begins on Monday.
VIDEO: Haas F1 Team's 2017 Challenger: The VF-17