New Australian rallycross series set for launch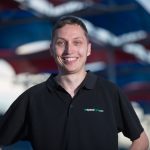 Australia will welcome a new domestic rallycross competition with the launch of the RXAus Series this weekend.
The five-round series is the brainchild of 2011 Australian Rally Champion Justin Dowel and ARC regular Will Orders, who are eager to re-establish the discipline in the country.
Rallycross has endured several false dawns in recent years following failed attempts by the Extreme Rallycross Championship and the still-born CAMS Rallycross Championship.
However, RXAus organisers have focused on building the discipline from a grassroots level aiming to keep costs low for competitors while allowing a wide range of vehicles to compete.
This Sunday sees the series, sanctioned by the Racers organisation, kick off at the Marulan circuit near Goulburn in New South Wales with a field of 17 cars confirmed.
RXAus will return to Marulan circuit for rounds in May and July, while Queensland's Carnell Raceway in Stanthorpe will host meetings in June and the November finale.
The series is split into five classes ranging from the top four-wheel drive class alongside categories for two-wheel drive vehicles and off-road buggies.
Headlining the entry is organiser Dowel in a spectacular 500 bhp Hyundai i20 supercar, while Orders will enter his Mitsubishi Lancer EVO.
The pair will be up against a field including rising stars Sean Bolger and Troy Dowel, son of Justin.
Gold Coast teenager Bolger, who has been mentored by former World Rally Championship driver Alistair McRae, will pilot an S2000 specification Volkswagen Polo.
Meanwhile, Dowel, also running an S2000-spec Polo, is due to compete in the RX Academy in Finland this year.
Leading contenders in the two-wheel-drive class include Michael Conway, the 2016 Victorian 2WD Rally Champion, who has entered his 300hp Mk2 Ford Escort.
Conway will be challenged by Irish Rallycross Championship frontrunner Michael Coyne.
RXAus technical boss Orders is confident this grassroots approach to rallycross will help the discipline establish itself for the long term in Australia.
"We are not setting out sights on having a world rallycross round here, we just want to have a good affordable scene for this discipline in Australia," Orders told Speedcafe.com.
"Rallycross has had such bad run the last couple of times.
"In the past it has been all gung-ho and you need an expensive car to compete, but we have taken a different approach.
"You can run a rally car or whatever you have got in the shed as long as it has got the right safety equipment.
"Myself and Justin have been involved in rallying for a long time and it has just become unaffordable and there is no real end goal so that is the basis of RXAus.
"We ran some events at Lakeside Raceway and Justin then got pretty serious about it so he decided to make a go of it.
"We want to make sure the event organisation and management is in place in the first bit of this year and then towards the end of the year we will do a bit more promotion and interaction with competitors.
"We don't have the big fees to run in the event and track hire is low so the entry fees should be kept low. It shouldn't be a huge burden for Justin who is funding it."
Racing is set to begin at 9am with the finals due to take place from 1pm on Sunday.
RXAus 2017 Calendar
RD1 – Marulan Circuit, NSW, February 26
RD2 – Marulan Circuit, NSW, May 14
RD3 – Carnell Raceway, QLD, June 10
RD4 – Marulan Circuit, NSW, July 29
RD5 – Carnell Raceway, QLD, November 11