Twigg joins STM for Australian GT campaign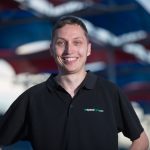 Max Twigg will join the expanded Scott Taylor Motorsport operation to contest the Australian GT Championship.
The Australian GT regular will pilot a second Mercedes AMG GT3 prepared by the Queensland team after spending last year driving alongside Steven Richards in the new BMW Team SRM M6 GT3.
Twigg has elected to drive solo in the five-round CAMS Australian GT Championship this season.
The team will also field a Mercedes AMG GT3 for team owner Scott Taylor and co-driver Craig Baird.
The news arrives after Twigg announced plans to race a full season in the Porsche Carrera Cup this season.
Speedcafe.com understands he will no longer fulfil those commitments.
"The BMW was a great car but I think driving solo is the way to go," said Twigg.
"After seeing what Klark Quinn did last year, he got more track time than those sharing drives, and I think that is important.
"With my driver rating I think I'm a chance to win races and score podiums, and Klark showed that's possible.
"The Mercedes is probably the best all-round car on the grid; it's strong everywhere.
"It's not too bad on the twisty circuits, and it really comes into its own at the more open tracks.
"Scott Taylor is absolutely meticulous about what he does.
"He likes everything to be done right, and I think they're going to be the number one team in Australian GT."
Both cars will be prepared in house this year at Scott Taylor Motorsport's state-of-the-art workshop on the Gold Coast.
"We've always had the capacity to do that and it's just now time for us," said team boss Taylor.
"The workshop is now complete, so we're in a position now to have both the staff and the facilities to run our own cars."
The Australian GT Championship will kick off the new season at the Clipsal 500 in Adelaide from March 2-5.