Brown graduates to Dunlop Super2 Series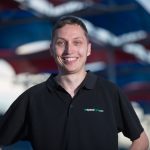 Reigning Australian Formula 4 champion and Toyota 86 Racing Series winner Will Brown will step up to the Dunlop Super2 Series with Eggleston Motorsport this season.
The 18-year-old Queenslander has proved to be an emerging talent in the national racing scene following a standout 2016 that also saw him finish as the runner-up to Leanne Tander in the Australian Formula Ford Series.
Brown became one of only five drivers in Australian racing history to achieve two national circuit racing titles in one year.
The Supercars rookie will pilot a Holden Commodore this year alongside fellow Supercars rookie Nathan Morcom who was announced last month.
"I'm really focused on building a career for myself in the sport here in Australia and the Virgin Australia Supercars Championship is definitely my eventual goal," said Brown.
"You really need to be in the Dunlop Super2 Series to learn all of the things you need to be successful down the track and you need to do it with a great team with proven equipment – and that's what we have done by signing with Eggleston Motorsport.
"I drove one of their older generation cars at Winton last year and, apart from being impressed by the car and its preparation, the approach of Ben and Rachael Eggleston and their entire team is impressive too, creating the right sort of environment for a developing driver.
"I know I have a lot to learn and the best way to approach the year is to be a human sponge.
"I'll be soaking up as much as I can about every facet of Supercars racing and putting every bit of energy into making the most of this great opportunity."
Eggleston Motorsport boss Rachael Eggleston has already been impressed by the way Brown has adapted to the much more powerful Supercar machinery.
"Having young and fresh new talent is hugely exciting for our team in a season when we also welcome our new Triple Eight equipment," says Eggleston.
"We ran a driver evaluation day with Will at the end of 2016 and were impressed with how quickly he got up to speed in the car and adapted to the power, weight and braking of a Supercar.
"We are always thinking big picture and there is no doubt Will has shown he is a serious talent and will be one to watch on the Australian motorsport scene after his success in the past year especially.
"He has been at the front in everything he has driven so far and, while we are all under no illusion how challenging the Dunlop Super2 Series is, we are confident that he will adapt to car well and be challenging in the top five during the season.
"There is no doubt he is as eager as we are for success and we hope to spring a few surprises in 2017 with our new driver line up."
The Dunlop Super2 Series will begin at the Clipsal 500, Adelaide from March 2-5.