Q&A: Alex Rullo prepares for Supercars leap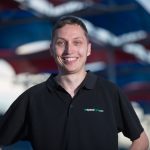 Schoolboy Alex Rullo explains the challenges ahead as he prepares to become the youngest driver to contest the Virgin Australia Supercars Championship.
The Perth native has landed a full-time drive with Melbourne operation Lucas Dumbrell Motorsport in move which has seen the 16-year-old granted a special dispensation to race after failing to qualify for the new CAMS Superlicence.
Rullo is a an emerging talent in the Australian touring car scene becoming the youngest driver to win a Supercar race following a triumph in the Kumho V8 Touring Cars at Winton in 2015 aged just 14.
After spending last season in the Dunlop Series, he now faces the biggest challenge to date of his burgeoning career by squaring up against the country's best touring car drivers.
Rullo spoke to Speedcafe.com's Tom Howard about his dream move to Supercars and how he is preparing for his debut at the Clipsal 500 from March 2-5.
SPEEDCAFE: What was your initial reaction when you found out you would be stepping up to the Supercars Championship?
RULLO: It didn't set in for a few days, dad told me they were in discussions about it but everything went good.
It's always been a dream of mine as I've always looked up to everyone in the Supercars scene. Now to be racing against them this year is an unbelievable opportunity and can't wait to make the most of it.
SPEEDCAFE: It is obviously an exciting move but also daunting too, it's a big step up from the Dunlop Series?
RULLO: It is a big step from the DVS series up into the main game. I have been training as hard as possible.
I've been in the LDM garage and around the main game since I was in the Kumho V8 Series two years ago so I'm familiar with how all that runs.
I've known Nick Percat since the Kumho series and he has been helping me out for a little bit.  
SPEEDCAFE: Have you had a chance to drive the car yet?
RULLO: I haven't had a drive yet and I'm pretty sure the first time will be at the Sydney test on February 21, but we will have a Winton test before Clipsal.
SPEEDCAFE: How do you attack this year, do you have to take it step-by-step and not expect too much too soon?
RULLO: I think we have the same goal as last year. It was a bit daunting I guess stepping up from the Kumho series. I'm familiar with how everything works this year and I expect to do the best job I can from every practice session, every qualifying and every race.
It's all about learning as much as possible and taking in as much as I can, so I can get up to speed with the guys up the front.
I'm training hard making sure my fitness is all good for the Clipsal heat.
That will be another hard aspect, the long races will also be a challenge. I did the 250km race at Bathurst last year so that will be something to compare to.
It will obviously be a little bit hotter at Clipsal and they have two of them in two days. I'm looking forward to that challenge and hopefully I can come out the otherside all good and take alot from it.
SPEEDCAFE: Obviously there are a lot of big names in the main game, are you ready for the rough and tumble that can happen on track?
RULLO: I'm ready to hop right in. Drivers like Craig Lowndes, Jamie Whincup and SVG are people I look up to. It is a similar thing having Paul Dumbrell in the Dunlop Series last year.
They are benchmarks and that just motivates me more to get up the front quicker and make the most of this opportunity.
SPEEDCAFE: We have seen some young drivers get brushed up by the more experienced drivers, do you feel strong enough to cope with that treatment?
RULLO: I have massive respect for everyone on the grid they are all great drivers. Obviously we had the issues with Kurt (Kostecki) getting in the way of Frosty at Ipswich last year, but everyone makes mistakes regardless of age.
I think we saw James Courtney doing it (blocking) to Will Davison at Tasmania as well.  
I think it's one of those things that happens and I think it was just a bit of a sticky situation that just happened to be (Kostecki's) second round in the main game as well.
I think I'm competent enough, I just need to get up to speed with the main game guys. I just want to do that as quickly as possible and hopefully it will be a smooth transition.
SPEEDCAFE: Have you set yourself any targets you want to achieve this year?
RULLO: The main goal is to learn as much from every session as possible and get up to speed.
Besides that I would like to out-perform all the other rookies in Supercars like Simona de Silvestro.
I will see how I go against her obviously she hasn't had as much time in a supercar as me, but she is a very competent driver, so I'd like to put myself beside her or in front of her.
We will see how the test goes and Clipsal goes then I will know where I am in the field and what I have to work on.
SPEEDCAFE: How important is the Sydney test day? It's a chance for everyone to work on the new tyres, but for you is it pretty crucial to getting yourself up to speed?
RULLO: It is very important. I know the cars.
I have driven the cars last yearend it's not as much about getting used to the office.
It's straight to work, learning the new tyre learning all the differences from the DVS car last year and gelling with the team so we are 100 percent prepared for Clipsal.
SPEEDCAFE: This season you will be competing in the Bathurst 1000, how much are you looking forward to that?
RULLO:  It's a massive event and I'm very grateful I'm able to race at Bathurst. I was there last year in the DVS with the 250Km race and it was a lot of fun besides the problems we had.
I have only driven at Bathurst once. It's one of those tracks where experience matters a lot more. There might be a little bit more gap, but I'm looking forward to having more track time there and catching up to the front guys as quick as possible.