POLL: Walkinshaw Racing's new era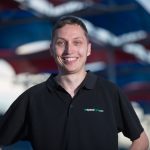 Following the loss of the Holden Racing Team moniker, Walkinshaw Racing is entering a new era as Mobil 1 HSV Racing Team.
The new identity in the wake of Holden shifting its factory support to the Brisbane-based Triple Eight squad from this year, ends a 26-year stint that saw the Walkinshaw operation develop the Holden Racing Team name as a sporting icon in Australia.
During this period the HRT forged itself as a powerhouse winning six drivers titles with successes in 1996 and from 1998-2002.
Walkinshaw Racing's new name sees the HSV tag revived which was previously used from 2005-2008 when the outfit ran a two-car HSV Dealer Team.
The HSV Dealer Team won back-to-back Supercars championships in 2006-2007 through Rick Kelly and Garth Tander before its demise.
The Mobil 1 HSV Racing Team heads into the 2017 Virgin Australia Supercars season with a new driver line-up following the acquisition of Scott Pye alongside James Courtney.
Do you agree with Walkinshaw Racing's new name?
Cast your vote below in this week's Pirtek Poll.