Nissan GT-R set for return after overnight repair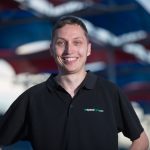 The #24 factory Nissan GT-R is set to return to the track today after its crew worked through the night to repair significant chassis damage following a crash in Friday practice at the Liqui-Moly Bathurst 12 Hour.
The Japanese manufacturer was forced to curtail its running yesterday when Florian Strauss struck the wall at the Metal Grate during third practice.
Strauss' impact caused plenty of damage to the front of the chassis which required the crucial loan of a jig from a local mechanic to straighten out the car.
Nissan team boss Bob Neville praised the work of his crew and the TAFE Smash Repair team who continued to work on the car this morning to prepare it for a possible return late in final practice, which is scheduled to begin at 0800 local time.
"There was loads of chassis damage but it has all be straightened," Neville told Speedcafe.com.
"It was a big effort for the guys and the local body blokes did a fantastic job.
"Without the use of that jig we wouldn't have been able to do it.
"It was an all nighter but not quite for everybody as we had some guys working on the #23 and we didn't want to pull them from that.
"It looks like we have all the parts and all we have to do now is check the set up and we might try and get it out for the last couple of laps of Practice 5."
The incident is all too familiar for the Nissan squad who were forced to take its GT-R off-site for repairs in 2015 following a crash late in qualifying.
After an overnight repair the car went on to score a dramatic win.