Doubt lingers over #59 Tekno McLaren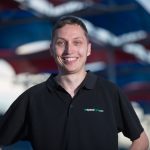 Tekno Autosports is facing the possibility of withdrawing its #59 entry unless a replacement rear chassis can be sourced following a crash in qualifying at the Liqui-Moly Bathurst 12 Hour.
Ben Barnicoat lost control of the car at the exit of The Chase before finding the wall on the exit of the corner.
The impact with the wall has caused significant damage to the rear of the chassis which is unable to be repaired.
Barnicoat's spin occurred after co-driver Will Davison had posted a 2:03.38s in Q1 which was good enough to secure a spot in the Top 10 Shootout.
However, the car, also shared by Jonny Kane, will subsequently miss the shootout as the team investigates its options.
While McLaren GT managing director Andrew Kirkaldy says a replacement rear chassis does exist in Australia, the team is facing the remote possibility of securing it to enable a return to the track tomorrow.
"It is not good it has rear chassis damage and there is not much we can do," Kirkaldy told Speedcafe.com.
"It will probably won't be able to be repaired for tomorrow.
"We can only replace the part (the rear chassis) and there is one in Australia but it is not here.
"We are trying to find a solution but it is a remote possibility."
Meanwhile, the Walkenhorst BMW squad is working to repair damage to rear right front and rear of its M6 GT3 following a clout with the wall at The Dipper in qualifying.
The car piloted by young Brit Ricky Collard was pitched into spin by the #9 Hallmarc Audi driven by Lee Holdsworth.
The #59 Tekno McLaren's demise will see the sister #1 entry promoted to the Top 10 shootout after it finished 11th in qualifying.
The inaugural Bathurst 12 Hour shootout is scheduled to begin at 1540 local time.