Whincup encouraged after first B12H run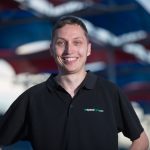 Jamie Whincup says he feels he can now focus on extracting more pace after an impressive debut GT performance at the Liqui-Moly Bathurst 12 Hour.
The six-times Supercars champion cut his first GT3 laps at the Mount Panorama circuit in Practice 2 which resulted in 2:04.82s which would have placed him third overall.
Whincup is sharing the #88 Maranello Motorsport Ferrari 488 GT3 alongside Triple Eight team-mate Craig Lowndes and factory ace Toni Vilander, who posted the fastest time of this year's event with a 2:04.19s.
Prior to his 15 laps in the session Whincup had completed just five laps of the Phillip Island circuit behind the wheel of the Ferrari.
Although new to category, the 33-year-old says is happy at the speed of his transition to the Ferrari.
"I'm just getting used to the car and I very much enjoyed the experience as far as the feel of the car goes," Whincup told Speedcafe.com.
"I just went out and did my thing and I pushed as hard as I can and it felt pretty normal. I have never left foot braked before in my life other than in go karts and for some reason it just seemed natural.
"I haven't played with the traction control and ABS yet and there is a lot of time in that.
"Now I feel I know the car reasonably, I can explore how to go faster.
"I feel that I have got a good base and if I can clean up my driving over the top that would be good."
Whincup admitted the most startling factor of the experience was dealing with traffic.
"Traffic was painful as there were so many cars," he added.
"I have never experienced anything like it in my life. I did 15 laps which was awesome but I got one clean lap it was unbelievable I'm just blown away.
"Not getting involved with traffic is one of the biggest mental things. It is so tough.
"Generally my mind is 100 percent how to go fast but to be honest 50 percent of my thinking is about how to not crash with a car.
"Some guys will get out the way some guys stay on line it is just crazy."
Whincup is expected to jump in the Ferrari to cut more laps at the end of Practice 3.