Drivers divided on Bathurst 2-minute barrier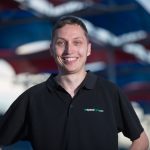 Drivers are hedging their bets over whether anyone can give the sub 2-minute barrier a nudge in the Liqui-Moly Bathurst 12 Hour this weekend.
The hottest field of stars and cars has created an unprecedented buzz around the event.
Shane van Gisbergen sizzled around the 6.2km mountain circuit in a record 2:01.28s in a McLaren 650S in qualifying for the 2016 12 Hour.
Times have tumbled as the race has evolved into what is considered firmly as the greatest GT3 field of drivers ever assembled in Australia.
There are doubts whether the machines have found the 1.3-1.5s needed to dip under the 2 minute mark.
Balance of Performance has seen nips and tucks to weight, aero, engines and turbo restrictors.
Another factor in the equation of whether two minutes can be eclipsed is the introduction for the first time of a Pirelli control tyre, with the company supplying medium and hard compounds.
Weather, too, comes into the mix with searing temperatures continuing across the weekend which is not conducive to banzai lap times.
Forecasts will see Bathurst reach 34C on Friday, 36C with a possible thunderstorm on Saturday and 38C with a possible shower on Sunday.
Van Gisbergen, who has switched to the factory-supported Scott Taylor Motorsport AMG GT GT3 this year, is sceptical over whether lowering 2 minutes is possible.
"I wouldn't say it is crazy to suggest a sub 2 minute lap, but I don't think it will happen," van Gisbergen told Speedcafe.com.
"The cars are not that much quicker than last year and that McLaren was a very good car and the weather was pretty good.
"I haven't seen what time the shoot out is, but if all the ducks are in a row it could make for something special.
"There wasn't much time left in that lap last year. It would be a big jump to get under two minutes."
German ace Maro Engel, who will share the STM Mercedes with van Gisbergen and Craig Baird, said the BoP and track conditions remain the critical factors.
"It's a big step from the previous race. If conditions stay the same with the BoP, I'm not sure where we are going to find the 1-plus seconds but it remains a possibility," Engel said.
"If you give all the cars as much power as they can deliver and make them as light as they can run I'm pretty confident we could see sub 2 minute lap times."