Privateer Nissan squad reveals Bathurst line-ups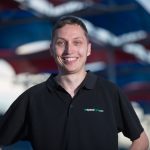 Privateer Nissan operation Hobson Motorsport has named a six strong driver line-up including Supercars pilot Chris Pither for its two car Bathurst 12 Hour assault.
The Sydney-based squad has recently taken delivery of two Nissan GT-R GT3s from America which will make their Australian racing debuts at the Mount Panorama endurance classic from February 3-5.
Former Super Black Racing Supercars driver Pither will lead the #38 Pro entry alongside, Australian Daniel Bilski, who has been competing in GT races in Asia last season.
The trio is completed by Porsche Carrera Cup and Aussie Racing Cars pilot Adrian Flack.
Team owner and former Dunlop Series regular Brett Hobson will lead the #66 amateur class entry alongside American gentleman racers Erik Davis and Fred Poordad.
Stan Sport is the only way to watch every round of Speedseries. Click here for all the action streaming ad-free, live and on demand.
Davis proved key in the sale of the cars to Hobson having previously run the GT-Rs under his Always Evolving team in the Pirelli World Challenge last year.
The arrival of Hobson Motorsport's privately owned GT-Rs, run by Wall Racing, will join two factory backed Nissans at this year's Bathurst 12 Hour.
"We are delighted to be joined by five such high calibre drivers," said team owner Hobson.
"With a plethora of expertise across multiple areas, we are confident of putting the most proficient team possible on the track.
"With these world-leading drivers behind the wheels of our flagship performance cars, the 2017 Bathurst 12-Hour is sure to herald the beginning of an exciting new chapter in Hobson Motorsport's history."
"We began our campaign to bring these two Nissan GT-R NISMO GT3's permanently to Australia back in early 2016, so we're delighted to finally get our hands on them.
"We're now looking forward to showing the world exactly what these cars are capable of, right here on home soil."
The cars will conduct their first laps in Australia today at Sydney Motorsport Park with Pither, Flack, Bilski and Hobson set to jump behind the wheel.
Hobson Motorsport has also set its sights on competing in the Australian GT Championship following the Bathurst 12 Hour.
One car has already been earmarked to contest the Australian Endurance Championship with Hobson and Flack set to share the entry. The team is currently working on plans to field the second car.