Morris lands late Daytona 24 Hours drive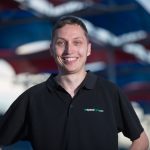 Experienced Australian driver Paul Morris has received a late call up to contest this weekend's prestigious Daytona 24 Hours.
The 49-year-old has been drafted into the SunEnergy1 Racing Mercedes AMG GT3 squad for what will be his third start at the famous American endurance event.
Morris will form part of a quintet of drivers including former IndyCar turned GT driver Tristan Vautier, factory Mercedes AMG GT ace Maro Engel and NASCAR pilots Boris Said and Australian Kenny Habul.
The #75 SunEnergy1 Racing Mercedes is one of three entered in the GTD class which also features reigning Supercars champion Shane Van Gisbergen, who will pilot the Riley Motorsports – WeatherTech Racing AMG GT3.
Morris has experienced the event twice before in 2005 and 2009 where he drove a Porsche GT3 Cup car and a Ford Mustang Cobra GT respectively. On both occasions he failed to finish the race.
Stan Sport is the only way to watch every round of Speedseries. Click here for all the action streaming ad-free, live and on demand.
"We have definitely got the right guys in the car and especially with Tristan (Vautier) and Maro (Engel) we have a shot (at the GTD class)," Morris told Speedcafe.com.
"The squad needed another driver on the roster they can rely on an be a nightwatchman if needed.
"We will just go over and it and enjoy it for what it is.
"I think we can win the class and that is the goal. We will have a pretty serious tilt at it."
Australia will also be represented in the event by Ryan Briscoe, who will pilot a factory GTLM class Ford GT entry alongside Richard Westbrook and Kiwi IndyCar star Scott Dixon.
Dixon's countryman Brendon Hartley, who won the recent Dubai 24 Hours, also returns to race behind the wheel of an Extreme Speed Motorsport Nissan Prototype.
Daytona 24 Hours Entry List
PROTOTYPE (P) (P) ENTRIES – 12 CAR NO. DRIVERS & NATIONALITY TEAM SPONSOR CAR TYPE TIRE ENGINE FUEL

Scott Sharp USA Brendon Hartley NZL Ryan Dalziel GBR
Luis Felipe Derani BRA

Joao Barbosa PRT Christian Fittipaldi BRA Filipe Albuquerque PRT

Ricky Taylor USA Jeff Gordon USA Jordan Taylor USA
Max Angelelli MCO

Konica Minolta Cadillac DPi-V.R

Konica Minolta Business Solutions USA

Sebastien Buemi CHE Stephane Sarrazin FRA Nick Heidfeld DEU
Neel Jani CHE

Rebellion Timepieces / LEMO Connectors / Northwire Inc.

Ed Brown USA Brendon Hartley NZL Johannes van Overbeek USA
Bruno Senna BRA

Dane Cameron USA Seb Morris GBR Eric Curran USA
Michael Conway GBR

Whelen Engineering Racing

Michael Guasch USA Tom Kimber-Smith GBR Jose Gutierrez MEX
RC Enerson USA

PR1/Mathiasen Motorsports

Tristan Nunez USA Jonathan Bomarito USA Spencer Pigot USA

Mazda / Modspace / Castrol

Tom Long USA Joel Miller USA James Hinchcliffe CAN

Mazda / Modspace / Castrol

Henrik Hedman USA Loic Duval CHE Nicolas Lapierre CHE
Ben Hanley GBR

Chris Miller USA Mathias Beche FRA Stephen Simpson ZAF
Misha Goikhberg CAN

Hi-Tide Boat Lifts / Justice Brothers / Red Line Oil

Marc Goossens BEL Renger Van Der Zande NLD Rene Rast AUT
PROTOTYPE CHALLENGE (PC) (PC) ENTRIES – 5 CAR NO. DRIVERS & NATIONALITY TEAM SPONSOR CAR TYPE TIRE ENGINE FUEL

Ben Keating
Robert Wickens
Chris Cumming CAN

USA John Falb USA CAN Remo Ruscitti CAN

Don Yount
Buddy Rice
Mark Kvamme USA

USA Chapman Ducote USA USA Gustavo Yacaman COL

Gas Monkey Energy Drink / Southwest Funding / Merchant Services LTD / Factgem / Avery's Trail Distilling Company / Top1

Tom Papadopoulos
Johnny Mowlem
Adam Merzon USA

USA Trent Hindman USA GBR David Cheng

Autosport Designs Inc. / Case-It / Top1 Oil

James French USA Nicholas Boulle USA Patricio O'Ward MEX
Kyle Masson USA

Performance Tech Motorsports

Ric-Man Construction / Neurospine Institute / Stand Up MRI / Cardio Access / AIG Technologies / Justice Brothers /

Scott Mayer USA Sebastian Saavedra COL James Dayson CAN
Alex Popow VEN

GT LE MANS (GTLM) (GTLM) ENTRIES – 11 CAR NO. DRIVERS & NATIONALITY TEAM SPONSOR CAR TYPE TIRE ENGINE FUEL

Antonio Garcia ESP Jan Magnussen DNK Mike Rockenfeller DEU

Oliver Gavin GBR Tommy Milner USA Marcel Fassler CHE

Bill Auberlen USA Bruno Spengler CHE Alexander Sims GBR
Augusto Farfus BRA

John Edwards USA Kuno Wittmer CAN Martin Tomczyk DEU
Nicky Catsburg NLD

Giancarlo Fisichella ITA James Calado GBR Toni Vilander FIN

Dirk Mueller DEU Joey Hand USA Sebastien Bourdais USA

Ryan Briscoe USA Richard Westbrook GBR Scott Dixon NZL

Stefan Mucke DEU Olivier Pla FRA Billy Johnson USA

Ford Chip Ganassi Team UK
GT LE MANS (GTLM) (GTLM) ENTRIES – 11 CAR NO. DRIVERS & NATIONALITY TEAM SPONSOR CAR TYPE TIRE ENGINE FUEL

Harry Tincknell GBR Andy Priaulx GBR Tony Kanaan BRA

Ford Chip Ganassi Team UK

Patrick Pilet FRA Dirk Werner DEU Frederic Makowiecki FRA

Kevin Estre FRA Laurens Vanthoor BGR Richard Lietz AUT

GT DAYTONA (GTD) (GTD) ENTRIES – 27 CAR NO. DRIVERS & NATIONALITY TEAM SPONSOR CAR TYPE TIRE ENGINE FUEL

Christian Engelhart DEU Mirko Bortolotti ITA Rolf Ineichen CHE
Ezequiel Perez Companc ARG

Scott Pruett USA Gustavo Menezes USA Sage Karam USA
Ian James USA

Jack Hawksworth GBR Dominik Farnbacher DEU Robert Alon USA
Austin Cindric USA

Corey Lewis USA Brett Sandberg USA Geert Jeroen Mul NLD
Kaz Grala

X-Box Forza / Monster Energy / Orion Lighting / Pertamina

Emmanuel Anassis CAN Zach Claman CAN Anthony Massari USA

DAV Aviation / La Champagnerie / Squadra Corse

Marco Mapelli
Marc Basseng
Luca Stolz DEU

CHE Lance Willsey USA DEU Franz Konrad DEU

Bill Sweedler USA Pierre Kaffer CHE Townsend Bell USA
Frank Montecalvo USA

Lawrence DeGeorge
Cedric Sbirrazzuoli
Paolo Ruberti ITA

USA Luca Persiani ITA MCO Raffaele Giammaria ITA

Carlos de Quesada
Daniel Morad
Jesse Lazare CAN

USA Michael de Quesada USA CAN Michael Christensen DNK

Connor De Phillippi USA Jeffrey Schmidt SWZ Christopher Mies DEU
Jules Gounon FRA

Montaplast by Land-Motorsport
GT DAYTONA (GTD) (GTD) ENTRIES – 27 CAR NO. DRIVERS & NATIONALITY TEAM SPONSOR CAR TYPE TIRE ENGINE FUEL

Ben Keating USA Adam Christodoulou GBR Jeroen Bleekemolen NLD
Mario Farnbacher DEU

Riley Motorsports – Team AMG

Emanuele Busnelli ITA TBD TBD Fabio Babini ITA
Emmanuel Collard FRA

Bryan Sellers
Madison Snow
Bryce Miller USA

USA Andrea Caldarelli ITA USA Dion von Moltke USA

TOTAL Lubricants / UIS / Paul Miller Group

Cooper MacNeil USA Thomas Jaeger Gunnar Jeannette USA
Shane Van Gisbergen NZL

Riley Motorsports – WeatherTech Racing

Peter Mann
Maurizio Mediani
Alessandro Pier Guidi ITA

CHE Davide Rigon ITA ITA TBD TBD

Jonathan Bennett USA Nic Jonsson SWE Colin Braun USA
Patrick Long USA

Lawson Aschenbach USA Robin Liddell GBR Andrew Davis USA
Matt Bell USA

Stevenson Automotive Group

Steve Smith
Reinhold Renger
Harald Proczyk AUT

CHE Sven Muller DEU DEU TBD TBD

Krauth in Motion Services

Christian Engelhart
Rolf Ineichen
Roberto Pampanini CHE

DEU Christopher Lenz CHE CHE Milos Pavlovic CHE

Christina Nielsen USA Sam Bird GBR Alessandro Balzan ITA
Matteo Cressoni ITA

Patrick Lindsey USA TBD TBD Jorg Bergmeister DEU
Matthew McMurry USA

Park Place Porsche / Mira Vista Aviation

Kenny Habul AUS
Boris Said USA
Tristan Vautier FRA

Maro Engel DEU  Paul Morris AUS

Jeff Segal USA Ryan Hunter-Reay USA Oswaldo Negri Jr. BRA
Tom Dyer USA

Michael Shank Racing w/ Curb-Agajanian

Andy Lally USA Graham Rahal USA Katherine Legge GBR
Mark Wilkins CAN

Michael Shank Racing w/ Curb-Agajanian
GT DAYTONA (GTD) (GTD) ENTRIES – 27 CAR NO. DRIVERS & NATIONALITY TEAM SPONSOR CAR TYPE TIRE ENGINE FUEL

Justin Marks USA Jesse Krohn FIN Jens Klingmann DEU
Maxime Martin BEL

Turner Motorsport / Katerra

Paul Dalla Lana CAN Marco Sorensen DNK Pedro Lamy PRT
Mathias Lauda ESP

Santiago Creel
Mike Hedlund
Wolf Henzler DEU

MEX Jan Heylen USA USA Timothy Pappas USA

LaSalle Solutions / Cavall 7 / Adobe Road Wines