Gibson: Tander FFord triumph a just reward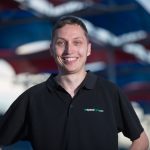 Leanne Tander's Australian Formula Ford Series title is a richly deserved award that recognises her talent in Australian motorsport says Christine Gibson.
Tander made history by becoming the first woman to win an Australian national circuit racing series crown after wrapping up the Formula Ford Series honours at Phillip Island on Sunday.
The 36-year-old's triumph arrives 18 years after her Formula Ford debut and following runner-up finishes in the Australian Formula 3 Championship from 2007-2008.
Gibson, renowned as one of Australia's most talented woman drivers, has followed Tander's career closely, labelling her as the most talented female racer in Australian motorsport history.
The wife of touring car legend Fred Gibson, Christine, remains the last woman to complete a full season in the Australian Touring Car Championship, recording a career high fifth overall in the 1975 championship.
"It is very impressive and more impressive than any other women has done in Australia that's for sure," Gibson told Speedcafe.com.
"She has achieved much more than I ever did and has a title to go with it.
"I'm totally happy and excited for her because it is a wonderful thing to have happened.
"It is a huge moment. Leanne has not just developed this skill overnight, she has been doing this for years and is very talented.
"She has been very successful this year and I don't think she has been given enough credit. This has come at a really good time for women in motorsport in Australia."
Arriving a week after Molly Taylor's historic championship triumph in the Australian Rally Championship, Gibson believes the success will prove to be highly inspirational for women aspiring to make a career in motor racing.
"It seems like motorsport has a bright future with regards to women in Australia," she added.
"I think for Leanne to have a title is a wonderful recognition of her talent and I think it is really inspirational for other girls coming through the ranks.
"I think the girls have come of age and they are game to have go and people are game to give them a go. I think it has been really good for the sport.
"I think the media has come over a fair bit too. Obviously it is good for television to draw the female crowd. I think that brings sponsors and people get behind them.
"I think the girls are working at it, they are not standing back and waiting for it to happen. It is really good time at the moment."
Leanne Tander Timeline 
1995 – Secures the New South Wales junior karting title.
1996 – Tander progresses to the senior category winning a second New South Wales karting crown. The year also saw her take out the Queensland title and finish second in the Australian Championship.
1998 – Makes her Australian Formula Ford Championship debut with Garry Rogers Motorsport at the final round at Oran Park.
1999 – Finishes seventh overall in her first full Australian Formula Ford Champion season.
2000 – Tander launches a serious bid at the Australian Formula Ford title finishing third behind Luke Youlden and Rick Kelly. She became the first female to win a round of the championship.
2001 – Stepped up to the Konica V8 Supercar Series with Garry Rogers Motorsport. Finished fifth in the championship with five podium finishes, becoming the first female to stand on a Supercars podium.
Entered into the Bathurst 1000 for Garry Rogers Motorsport but the entry she shared with Paul Dumbrell retired on lap 41 before she jumped in the car.
2002 – Joined the Fleetcare Racing squad for a second Konica V8 season but a part season saw her finish 18th in the championship.
2003 – Lack of funding saw Tander return to complete her university degree. An Australian Production Car Series drive arrived behind the wheel of a factory backed Daihatsu Sirion.
2004 – Finishes third outright and first in class in the Australian Production Car Championship in a factory backed Toyota Corolla.
2005 – Tander wins New South Wales and Victorian Improved Production titles.
2006 – Finished fifth outright in her first full season in Australian Formula 3
2007 – Runner-up in the Australian Formula 3 Championship. Tander finished two points adrift of Tim Macrow after scoring two wins and eight podiums.
2008 – Driving for her own TanderSport squad, she finishes runner-up in the Australian Formula 3 Championship for the second consecutive season.
2009 – Raced a part0season in the Fujitsu V8 Supercars Series and finished 18th in the Bathurst 1000.
2010 – Finished fifth in the Touring Car Masters driving a Ford XA Falcon.
2015 – Returned to motorsport in the Australian Formula Ford Series after having children.
2016 – Wins Australian Formula Ford Series title.