Taylor labels ARC triumph as 'dream come true'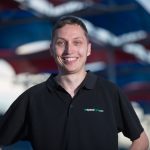 Molly Taylor labelled an unexpected Australian Rally Championship crown as the greatest moment of her motorsport career.
The 28-year-old made history by becoming the first female to win the title since its inception in 1968 with a victory in dramatic circumstances at Kennards Hire Rally Australia.
Taylor and experienced co-driver Bill Hayes clinched the championship after a post rally penalty was awarded to initial event winners Mark Pedder and Dale Moscatt for checking in early at the final stage.
After a nervous wait for Taylor, Pedder and Moscatt did not lodge a protest to appeal the decision.
The ARC title is the latest in the line of success for Taylor having won the FIA European Rally Championship Ladies championship in 2013 and the British Ladies champion honours from 2009-2010.
Taylor has also competed on the world stage in 2011 when she contested six WRC events as part of the FIA World Rally Championship Academy, scoring two top five finishes.
After finishing as ARC runner-up last year, Taylor hailed this title as a dream come true, arriving after joining a new factory backed Subaru program this season.
"It is certainly the best motorsport moment I have had for sure," said Taylor.
"I certainly didn't expect to finish up where we did and saying that the whole year has been completely unpredictable so we never wrote anything off.
"It has always been the dream and to have this opportunity with Subaru and do it professionally.
"To be able to do this in our first year with them is beyond what I thought was possible.
"I knew at some point we would be able to do it together but I thought it would come in a year or two."
The triumph was not without its challenges as Taylor and Hayes had to overcome an overheating Subaru WRX that forced them to run with the heater on to counteract rising engine temperatures.
It proved to be a rally of attrition with title rivals Simon Evans and Ben Searcy (Subaru WRX Sti) and Harry Bates and John McCarthy also suffering punctures damaging their title bids.
"This was possible the most physically draining rally I have ever done," she said.
"We have done a lot of hot rallies but never with the heater on.
"That was really tough and that is probably the worse I have felt at the end of the stage.
"This is what we train for so it is nice to have a challenge like that."
In the wake of the success co-driver Hayes heaped praise on Taylor's dedication, labelling her approach as the best he's witnessed.
"Her attention to detail is something I have never seen before ever with any of the drivers I have worked with," said Hayes.
"It is a big statement and I have sat with some very good drivers in they sport and none of them put the effort she puts in.
"The sport is evolving it has become scientific. You (almost) have to be an engineer.
"Writing your pace notes you have to be millimetre perfect and that only comes if you put the effort in and clearly she does that.
"It has been a big benefit over the course of the championship."
Taylor is already setting her sights on defending the crown next year.
"The goal was to win the championship and I had given myself a couple of years to do that," she added.
"I would definitely love to back it up and keep the Les Walkden team going.
"Hopefully it is the start of more success in the future."