Porsche reveals new 911 RSR GT weapon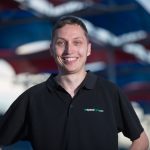 Porsche has revealed its new mid-engined 911 RSR GT weapon which will contest the FIA World Endurance Championship next year.
The German manufacturer's latest offering features a four-litre, flat-six normally aspirated engine mounted ahead of the rear axle in a change from Porsche's famous rear engine design.
Launched at the LA Auto Show, the car is set to make its debut at the Rolex 24 Hours of Daytona from January 28-29.
The new 911 RSR will also compete in the IMSA WeatherTech SportsCar Championship and the FIA WEC including the prestigious Le Mans 24 Hours, competing in the GTE category.
Porsche has built a radar guided collision warning system into the car which is designed to detect faster LMP cars coming from behind and reduce accidents.
Stan Sport is the only way to watch every round of Speedseries. Click here for all the action streaming ad-free, live and on demand.
"While retaining the typical 911 design, this is the biggest evolution by now in the history of our top GT model," said Porsche's head of motorsport Dr Frank-Steffen Walliser.
"For the 911 RSR, we deliberately focused on a particularly modern and light normally-aspirated engine, as this gave our engineers immense latitude in developing the vehicle.
"Apart from that, in principle, the LM-GTE regulations stipulate the absolute equality of various drive concepts, as the torque characteristics of turbo and normally aspirated engines are aligned."
Porsche is confident the 911 RSR, which develops 375 kW (510 hp), will be ready for its debut having undertaken 35,000km of testing.
"We're very well prepared for this," said Marco Ujhasi, Head of GT Works Sport.
"Since its first rollout in Weissach in March this year we've covered 35,000 test kilometres on racetracks in Europe and North America – that's more than in the development of any other Porsche GT racer."
VIDEO: 911 RSR