Better prepared Paddon ready for Rally Australia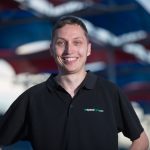 Hayden Paddon is better prepared for this weekend's Kennards Hire Rally Australia than any other event as he looks to finish a breakthrough season on a high.
The New Zealander heads to the Coffs Harbour season finale lying fourth in the World Rally Championships standings after a standout second full year in the category.
The factory Hyundai driver, alongside co-driver John Kennard, scored a maiden WRC win in Argentina in April and podium finishes in Sweden and Poland.
A string of consistent results has put him within three points of snatching third overall.
After a disappointing fifth in Australia last year, Paddon has completed a more thorough preparation for the event to ensure he is more relaxed.
Last season the 29-year-old felt he tried too hard to secure a result at the event, which acts as a quasi home round with New Zealand's absence from the calendar.
"I think it is the rally we look forward to the most every year," Paddon told Speedcafe.com
"I think we can try and finish off our year on a high.
"Having said that we are not focussed on a result driven goal for this weekend.
"Last year we put too much pressure on ourself and fell short of where we want to be.
"Not only do you overdrive in that situation but you over complicate things.
"All of our good results in the past have come when we least expected it or when we have been more relaxed.
"I think my preparation for this event has been the best it has been for any rally.
"As soon as Rally GB was over it was straight into doing our homework for Rally Australia.
"Now that we are here I'm feeling relaxed.
"In the recce the pace notes we have been putting together are working well.
"We have got everything in place in regards to tyre strategy so it is nice to be a bit more relaxed."
After tasting victory in Argentina, Paddon is hungry for more success now knowing what it takes to win a WRC event.
"It is a humbling experience to win a WRC event," he said.
"It is the stuff dreams are made of but once you have won a rally and have that taste you want more. It is making us work harder and dig deeper to get back up there again.
"I think to win any WRC event is pretty huge but to get a good result here would probably be a little bit more special with how much support we have there from New Zealand."
The first competitive stages begin on Friday morning with passes through Utungen (7.88km), Bakers Creek (16.75km) and Northbank (8.42km).
Paddon believes road position will prove a key factor in the opening two days with plenty of loose gravel on the stages set to hamper the early runners.
Running fourth on the road, virtue of his championship position, the Kiwi says he will have to remain patient early on.
"We have seen that there is a hell of a lot of gravel on the stages so there will be a lot of sweeping," he added.
"We will have a small advantage over the three guys ahead of us but we can't rule out the fast guys behind us.
"When the road conditions are like this there is nothing you can do about it. We have to be patient and keep to our plan."
VIDEO: Kennards Hire Rally Australia Preview