Ratel keen to build Asia-Pacific GT event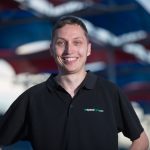 Blancpain GT boss Stephane Ratel is keen to collaborate with Australian GT to form a new event in New Zealand in 2018.
The founder of the SRO Motorsports Group surveyed the category for the first time as an invited guest at the Australian GT Highlands Park finale last weekend.
Plans for an Asia-Pacific event were briefly discussed between Ratel and Australian GT owner Tony Quinn at the Blancpain GT finale at the Nurburgring last year.
Since then Quinn has spoken to GT Asia organisers about the concept, while Ratel has unveiled plans for a rival Blancpain Asia GT Series set to be launched next year.
Both parties remain interested in forming an event which would see competitors from Asia join the Australian GT Championship at either of the Quinn-owned Hampton Downs or Highlands Park circuits.
Although excited by the prospect of a new race meeting, Ratel admits plans are on hold for the meantime while he establishes his new six round Asia series, which could become an integral part of the Asia-Pacific event.
"It is complicated but I would love to do it," Ratel told Speedcafe.com.
"It is a long trip to New Zealand and it is not that easy, but why not? We will see what the future holds.
"We need the Asian Blancpain series to take off. We are at the very beginning of the project and we need to make it a reality.
"There is certainly something that can be done but the problem we have is dates and transporting cars.
"I don't think we can do anything next year but 2018 is a possibility.
"Let's see how our series in Asia develops and if that goes well then there are certainly ways we can collaborate (with Australian GT to form an Asia-Pacific race).
"It is very early but the landscape in Asia is evolving.
"The Asian Le Mans Series was really struggling for a long time but suddenly and unexpectedly it has got bigger.
"It is a bit of an overcrowded market but we have the idea of really investing and building a strong series.
"We want it to be like the Blancpain series in Europe. We have laid the foundations and now we need the players."
Having witnessed the Blancpain Series become the leading global GT3 category, Ratel admitted the Australian GT Championship and Highlands Park exceeded his expectations.
"I'm very happy I came to New Zealand," he added.
"The championship looks very healthy and I have to say congratulations to Tony (Quinn) for the circuit and the series.
"I have never seen Australian GT and I have to say I was very positively surprised.
"There is a lot of cars, a lot of diversity and good competition on the track."