Mixed reaction to SuperUtes concept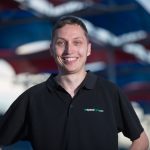 The proposed SuperUtes platform has provoked a mixed reaction from V8 Ute racing competitors ahead of its planned debut in mid-2017.
Supercars recently announced a revamped Utes category based around production turbo-diesel dual-cab SUVs, replacing the current Ford Falcon/Holden Commodore-based models that have underpinned the series since its inception in 2001.
SuperUtes is designed to bring the category more inline with the current Ute market trends and is open to all manufacturers.
The V8 Utes Series had planned to adopt dual cab SUV bodies on a purpose-built control platform as part of its plan to shake up the series before Supercars took over last year.
The new formula will, however, see turbo diesel production-based vehicles fitted with a variety of control components provided in a kit produced by Supercars.
It is estimated that the competition Utes will cost around $100,000 each, with Supercars expected to soon begin building a prototype for development testing.
V8 Utes stalwarts Sieders Racing has been quick to throw its support behind the new direction for the category.
Team manager Luke Sieders says his operation has already begun tentative discussions with manufacturers.
"I think it it is exciting time for the category to reinvigorate the series and it is something that has to happen," Sieders told Speedcafe.com.
"It is very early days but we have started to approach manufacturers and spoken to potential sponsors and everyone we have spoken to is pretty excited about it.
"There are so many manufacturers to approach other than Ford and Holden now.
"I think the motorsport platform is a good way to build a reputable brand and I think you will see marques like Great Wall out there.
"That is what the whole concept is all about."
Although costs have not been communicated to potential competitors, he expects the outlay to be not too dissimilar to the current V8 Utes model.
Sieders says he has no qualms with the switch from V8 to turbo diesel engines, but hopes fans will embrace the concept.
"It will be fairly production based and will keep some of the fundamentals that we have going now," added Sieders.
"I think it will be competitive with the current Utes to run and I think it will be cheaper because of the way they are going with it.
"Supercars have been quite proactive in keeping the running costs down and they have indicated that is their intention.
"I think like anything change is always a shock to begin with but I think in the end (turbo diesel) is an exciting prospect and fans will embrace it.
"I'm excited about it as we have been involved with diesels before through truck racing. We understand it and not so intimidated by it."
Meanwhile, Erebus Motorsport, which has previously run in the V8 Utes category, has no plans to rejoin the series it feels will become too expensive and unattractive for fans.
Erebus team manager Barry Ryan has also questioned the move to turbo diesel engines.
"We believe it (dual cab Utes) is the way to go with that style of vehicle but turbo diesel is going to be very expensive and hard to manage," Ryan told Speedcafe.com.
"We were interested (in the new style Utes) when we were entrenched in the series.
"We agreed it still need to be a V8. I think there is a lot more still to flow under the bridge before that is going to be a financially viable category for people to be involved in.
"The old style Utes were cool because they were a V8. Being fast, cheap and entertaining is going to hard to manage with those style of Utes."
Supercars declined to comment when contacted by Speedcafe.com.