Ingall: BMW GT3 'feels like an open-wheeler'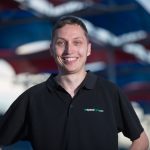 Russell Ingall has likened the BMW M6 GT3 to a Formula 3 car following his maiden run ahead of next year's Bathurst 12 Hour bid.
Ingall joined up with Bathurst 12 Hour team-mates Tony Longhurst and Mark Skaife for the squad's latest test day at Phillip Island ahead of the February 3-5 endurance race.
The test provided Ingall with valuable track time as he bids to acclimatise to GT3 machinery before a run at the Challenge Bathurst sprint event at Mount Panorama later this month.
Ingall was absent from the car's shakedown run at Phillip Island which was undertaken by Skaife and Longhurst last month.
Having never driven a modern GT car before, the 2005 Supercars champion was stunned by performance of the M6 GT3 and in particular the grip the car generates in high speed corners.
The trio clocked up approximately 300km of running in the Steven Richards Motorsport prepared entry during the test.
"I think the guys knew by the smile on my face that I enjoyed it," Ingall told Speedcafe.com.
"I almost had to search in the hard drive and bring back memories of when I drove open wheelers. It felt like driving a Formula 3 car.
"The power wasn't overwhelming compared to a Supercar, but it was nice and very linear. The grip and aero was amazing.
"I had to go back to left foot braking again which I haven't done for a while because we don't need the clutch on upshifts or downshifts.
"On good tyres you can hold it flat through the last corner at Phillip Island which is pretty wild.
"The car is really enjoyable. With no disrespect to Supercars, it is a proper race car, it feels like an open-wheeler.
"I'm happy with what we did during the day. It was a brand new car and it had only one outing.
"It is like starting again as you get to explore the limits and you don't know where the limits are.
"I think those limits are a fair way down the road. I think there is another 25 percent to come which is pretty exciting stuff."
Ingall says he feels ready to tackle Mount Panorama at the Challenge Bathurst test from November 24-27.
The meeting will see a host of GT3 teams clock laps in a series of 20 minute sessions to aid preparations for the Bathurst 12 Hour.
"It was important to get a few laps under my belt before the Challenge Bathurst event," he added.
"Driving around Bathurst I will have to get the old memories of driving a Supercar out of my head.
"I will go there as if I have never driven there before because I kept braking at Phillip Island where I shouldn't in a GT car."