Toyota 86 flips over fence at Pukekohe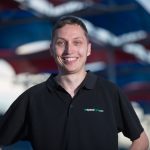 Toyota Finance 86 Series driver Michael Scott has walked away from a frightening crash that saw his car vault the catch fencing at the ITM Auckland Super Sprint.
The young New Zealander's Toyota 86 flipped in the final complex of corners after contact with Matt Lockwood in Race 3.
The car skidded on its roof into the gravel trap before embarking upon a series of barrel rolls that pitched the car over the catch fencing.
Scott's vehicle came to rest upside down in the pit lane before the 21-year-old New Zealand Formula Ford champion exited the vehicle.
He was soon attended to by medical crews at the circuit before being transferred by road to hospital for further checks.
The incident saw the race red flagged handing Ash Blewett the victory from Ryan Yardley.