Australian F3 reacts to new Formula Libre series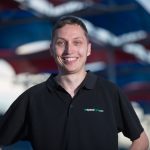 The Australian Formula 3 Premier Series has raised concerns over the Confederation of Australian Motor Sport's plans to replace the category with a new Formula Libre-style series next year.
As reported by Speedcafe.com last week, CAMS intends to launch a new multi-class open-wheel series catering for a range of single-seaters, including Formula 3, Toyota Racing Series, Formula Renault, Formula BMW and Formula 1000 cars.
Although yet to announce a promoter, the new series is set to join the Shannon's Nationals bill in place of the Australian Formula 3 Premier Series.
Speedcafe.com understands that Formula 3 cars are set to form the bulk of the field.
Formula 3 management has been angered by the notion the series is to be replaced, reiterating that current regulations already permit other single seater variants to compete in an invitational class within Australian F3.
Series bosses however are keen to engage with CAMS over the launch of the new series.
"We are being replaced by something that is quite frankly from 1960 and it is well catered for at club level at a good cost base," Australian F3 Premier Series Category manager Ian Richards told Speedcafe.com.
"I'm struggling to believe they will attract anyone to do it.
"We have had effectively Formula Libre in our regulations for 8-10 years via an invitational class under regulations T2.4.
'This states it is a class is for automobiles constructed in accordance with the appropriate regulations that applied in the year of manufacture as specified in any technical bulletins, amendments, clarifications or directives thereto, and subject to a current log book issued by CAMS or the the relevant ASN."
"There has been no take-up on that regulation, so one has to question what CAMS' real motives are.
"We will need to wait and see what happens when the new promoter is appointed, but we are happy to work with CAMS in the future."
The Australian Formula 3 Premier Series heads to Sydney Motorsport Park for the final round from November 11-13.