Q&A: Ekstrom on rallycross, DTM and Supercars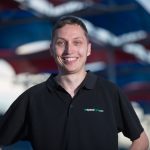 Mattias Ekstrom has emerged as one of the world's most successful touring car drivers, winning titles in the holy contested German DTM series in 2004 and 2007 and the Swedish Touring Car Championship in 1999.
The 38-year-old has now proved his versatility by taking on the world's best in rallycross with his own EKS outfit, while also contesting the DTM series for Audi.
The Swede has taken the FIA World Rallycross Championship by storm winning the championship with a round to spare behind the wheel of an Audi S1 Supercar. He also finished seventh in the DTM standings.
Known in Australia for a 2013 Bathurst 1000 wildcard drive, Ekstrom spoke to local media about his recent rallycross triumph and his DTM and Supercars ambitions.
QUESTION: How do you feel after winning the FIA World Rallycross Championship?
MATTIAS EKSTROM: I have to say it is quite a nice feeling as it has been a long time since I won a big event or title.
I'm extremely happy to have achieved that but I wouldn't say daily life has changed for me. I would be lying if I said I wasn't enjoying the moment though.
QUESTION: You were very emotional when you won the title, can you explain why it meant so much to you? 
EKSTROM: I think it comes down the amount of effort we have seen on this project.
I have only won titles as a driver but it is different when you build up your own team and then convince a lot of partners to support you.
This puts it on a different level in terms of how much effort is put in and that is why it is quite emotional.
It is honour to have the opportunity to try this because then you realise how much effort is spent to achieve the very best. To be able to win always takes something extra.
It comes with some responsibility because when the project started, I asked for support and permission from Audi to do it and that was when the S1 was introduced to the market.
Audi S1 has a special meaning in motorsport and especially for me because I grew up with Walter Rohrl and Stig Blomqvist in the Group B rally days. So to have a car called the Audi S1 meant a lot.
Converting the modern S1 into a rallycross supercar and then winning the first race was a big thing. Winning the world championship brought some pressure but that is what I wanted because that is what the car name deserved.
QUESTION: It was a challenge to win the title as you faced former World Rally champions Petter Solberg and Sebastien Loeb?          
EKSTROM: People might not realise how competitive rallycross is and those guys (Petter and Sebastien) are famous for knowing how to drive race cars fast.
We are not lacking competition at all. It has been a very strong field this year and I would say the top 10 guys have always been able to win races.
There haven't been many different winners but it has been very close.
QUESTION: We are seeing the FIA World Rallycross Championship growing with organisers announcing a round in South Africa next year. Would teams and drivers been keen to compete in Australia?
EKSTROM: I think yes they would be keen. For sure there is a bit of travelling required to race in Australia.
There is a very good motorsport heritage there with the Supercars. I think people would definitely be interested.
QUESTION: There are more and more manufacturers becoming involved in rallycross, is there a chance Audi might increase its support to your team?   
EKSTROM: When I started the project I knew we were going to keep it at the same level for three years and then we would see how the sport has developed.
I think it will be unrealistic for me to continue without any support.
It is nearly a must as Peugeot and Ford are really raising the bar and doing a better job than they have ever done.
We are trying but I feel we have come to the limit of what we can achieve as a privately run team, and if we should improve ourselves now, we will need more factory backing.
It doesn't necessarily mean it needs to become a full factory team, but we will need more factory backing on a daily basis.
QUESTION: There has been an electric rallycross car unveiled recently, what are your thoughts on electric power in rallycross and your chances of moving to that resource?
EKSTROM: I think rallycross is going to be one of the best places to showcase high performance electric cars.
In Formula E the cars are not so fast and are supposed to last for quite long.
I think rallycross could be the complete opposite and show the maximum performance of an electric car and in an extreme way.
I believe in 5-10 years there will be a very good electric rallycross championship because the technology is coming.
There are a couple of example cars but I think a championship of 15-20 cars will take a little bit more time than three years.
I would definitely like to develop an electric rallycross supercar. Imagine if you had 1000 horsepower car it would be insanely cool.
QUESTION: There was a clash between the FIA World Rallycross Championship and DTM this year and you chose to race in rallycross, is your commitment to DTM still strong for next year?
EKSTROM: I still feel I have some unfinished business in DTM. I have been trying very hard in the last two years to become champion again.
The new DTM cars and regulations have changed a lot of bits and pieces for next year, so I would definitely like to give it another go next year.
It takes two to tango so I am still waiting for my bosses to see what plan they have.
They need to want me and there be a seat available as well as there will be less cars on the grid so everyone will not have a space at the team.
QUESTION: Would you consider switching manufacturers if you became desperate in your search to find a DTM seat for next year?
EKSTROM: It is a good question. I haven't really thought about that. I think after so many years with Audi switching manufacturers would be a huge step.
I don't think I would drive for another manufacturer as I am not at the start of my career or in the first half, I'm in the second half.
I don't know how long my career will go on for but I would definitely like a couple more years.
I have so many good memories with Audi so I would like to end it with them.
If the chance is there I would like to stay loyal to all of my partners. Staying with Audi and Red Bull would mean a lot to me if I could keep this for the rest of my career.
QUESTION: People in Australia will know you from finishing 10th in the 2013 Supercheap Auto Bathurst 1000 as a wildcard with Triple Eight, is there any chance you may feature in the race again?
EKSTROM: I have been following Supercars more than ever. I have a big interest in the championship and it is very entertaining to follow.
I still have my contact with the Triple Eight guys so for sure it is something that I want to go back and do.
Like I said with DTM, I have some unfinished business there and I would like to do the full Pirtek Enduro Cup and have a bigger go at it.
First of all I will see what happens with my Audi programs next year.
If there is a chance to do it I will always keep my relationship with Roland (Dane, Triple Eight team principal) because for me that is the only team I would like to drive for because I have a relationship with them.
I shouldn't say no to anyone else but it feels like that would be the most natural thing. I am not actively going to hunt anyone else.
QUESTION: Being such a loyal Audi driver and given the marque's association with the Bathurst 12 Hour event, is that race on your radar?
EKSTROM: Generally I don't get involved in endurance races. I did a couple a few years ago where I won the Spa 24 Hours (in 2011), but I feel that type of racing is not attractive to me.
I like Audi so you would think it is quite natural, and if it was a one hour race I would probably be there, but I'm not so interested in doing those longer races and sharing cars for the moment.
QUESTION: There has been a big announcement from Audi regarding its motorsport plans for the future with the axing of the Sportscar program and the move to Formula E, what is your take on that?
EKSTROM: I'm not a single seater person and I don't have any intention to become a single seater racer and endurance racing is not my thing.
I follow it closely as it is a part of the Audi family.
I can see the impact for Audi and Audi Sport to make this change. It will change a lot for some people and on the other side I think it is just being realistic that you have to adapt to the situation.
Everybody know the battles Audi and the VW Group have had lately, but also you have to look into the future and fit your investment the best for what is coming.
There is a need to invest in electric cars for sure and there is only Formula E on the market currently, but I think there will be some electric cars involved in rallycross soon.
I'm happy that they are continuing to invest in DTM because that is where I have a lot of my passion.
I do understand the decision and I can understand that there are quite a lot of people disappointed that the LMP1 program has stopped. I'm not angry, disappointed or surprised.