Walkinshaw Porsche secures provisional pole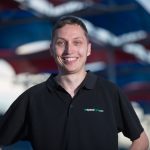 Walkinshaw Racing has secured provisional pole for the Hampton Downs 101 ahead of this afternoon's Top 10 Shootout.
On combined average times, the Duvashen Padayachee/John Martin entry topped the order by 0.2s from the Eggleston Motorsport Mercedes of Peter Hackett and Dominic Storey.
Padayachee had been the star of opening qualifying while co-driver Martin was 11th fastest in the second session that featured the bulk of the professional drivers.
Eggleston Motorsport enjoyed a strong showing in both 25 minute outings with Hackett second in Q1, while Storey was an impressive fourth in Q2.
The Miedecke Stone Racing Aston Martin of George and Andrew Miedecke was third ahead of the Lago Racing Lamborghini of Roger Lago and David Russell.
Nissan has secured a place in the Top 10 shootout by finishing fifth after Simmons posted a time good enough for fifth in Q1, before Michael Caruso backed up the pace with ninth in Q2.
Circuit owner Tony Quinn will see his Aston Martin in the shootout after qualifying sixth overall in the car, he shares with Supercars legend Greg Murphy.
Christopher Mies' scintillating pace that saw him top Q2 has helped the #1 Jamec Pem Racing Audi R8, he drives alongside Tony Bates, into the top 10 in seventh.
Reigning Australian GT champion Mies clocked the fastest lap of the weekend with a 1:29.82s as he dominated the second 25 minute session.
The Top 10 Shootout is completed by the championship leading duo of Grant Denyer and Nathan Morcom (Tekno Autosports McLaren 650S), Klark Quinn/Mike Whiddett (Darrell Lea McLaren 650S) and the Theo Koundouris/Marcus Marshall (Supabarn Supermarkets Audi R8).
Steven Richards Motorsport just missed out on the top 10 by 0.1s with their BMW M6 GT3, while the Jamec Pem Racing Audi  R8 of Garth Tander and Daniel Bilski will start Sunday's race from 12th on the grid.
After topping opening practice on Friday, the Tony D'Alberto/Ash Samadi Audi R8 will share the seventh row alongside the Jack Perkins/Mark Griffith Mercedes SLS GT3.
The Australian GT Hampton Downs 101 Top 10 Shootout is scheduled to begin at 1400 local time, midday AEDT.
Result: Australian GT Hampton Downs 101 Top 10
John Martin/Duvashen Padayachee, Walkinshaw Racing, Porsche 911 GT3-R, 1:30.744s
 Peter Hackett/Dominic Storey, Eggleston Motorsport, Mercedes AMG GT3, 1:30.956s
George Miedecke/Andrew Miedecke, Miedecke Stone Racing, Aston Martin Vantage, 1:30.980s
Roger Lago/David Russell, Lago Racing, Lamborghini REX, 1:31.110s
Matt Simmons/Michael Caruso, Nissan GT Academy Team Kelly, Nissan GT-R GT3, 1:131.255s
Tony Quinn/Greg Murphy, Darrell Lea, Aston Martin Vantage GT3, 1:31.407
Tony Bates/Christopher Mies, Jamec Pem Racing, Audi R8 GT3, 1:31.419s
Grant Denyer/Nathan Morcom, Tekno Autosports, McLaren 650S, 1:31452s
Klark Quinn/Mike Whiddett, Darrell Lea. McLaren 650S, 1:31.767s
Theo Koundouris/Marcus Marshall, Superbarn Supermarkets, Audi R8 GT3, 1:31.774s