Russell claims inaugural Hampton Downs 101 pole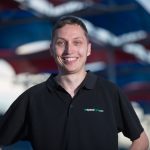 Lago Racing's David Russell produced an impressive Top 10 Shootout display to secure pole position for the inaugural Hampton Downs 101.
The experienced GT racer posted a 1:30.80s in the Lago Lamborghini REX to top a hotly contested pole position shootout at the newly reconfigured 4km New Zealand circuit.
Russell's effort proved 0.10s faster than the Miedecke Stone Racing Aston Martin piloted by George Miedecke.
Michael Caruso put the Nissan GT Academy Team Kelly entry on provisional pole before being eclipsed by both Russell and Miedecke.
As a result, the Nissan Supercars driver will start from third alongside his GT Academy winning co-driver Matt Simmons.
The second row was completed by the #1 Jamec Pem Racing Audi R8, courtesy of Christopher Mies' 1:31.22s, which had set the early pace in the shootout.
Greg Murphy produced a solid performance in the Tony Quinn-owned Aston Martin Vantage to claim fifth ahead of fellow Kiwi Dominic Storey in the Eggelston Motorsport Mercedes AMG GT3.
Having earned provisional pole after Q2, Walkinshaw Racing will start seventh after John Martin was unable to match the front running pace with the final lap of the session.
Marcus Marshall put the Superbarn Supermarkets Audi R8 in eighth ahead of the championship leading Tekno Autosports McLaren 650S, driven by Nathan Morcom.
GT rookie Mike Whiddett was a surprise inclusion in the session although his lap ended in disappointment after a spin at Turn 10.
Sunday's Hampton Downs 101 is scheduled to begin at 1145 AEDT.
Result: Australian Endurance Championship Hampton Downs 101 Grid   
| | | |
| --- | --- | --- |
| Pos | Drivers | Time |
| 1 | R.Lago /D.Russell (Lamborghini REX GT3) | 1:30.806 |
| 2 | G.Miedecke / A.Miedecke (Aston Martin Vantage GT3) | 1:30.912 |
| 3 | M. Simmons / M. Caruso (Nissan GT-R GT3) | 1:31.107 |
| 4 | T.Bates /C. Mies (Audi R8 GT3) | 1:31.220 |
| 5 | T.Quinn / G. Murphy (Astin Martin Vantage GT3) | 1:31.256 |
| 6 | P.Hackett /D. Storey (Mercedes AMG GT3) | 1:31.613 |
| 7 | J.Martin /D. Padayachee (Porsche GT3-R) | 1:31.731 |
| 8 | T.Koundouris /M. Marshall (Audi R8 GT3) | 1:31.742 |
| 9 | G. Denyer /N. Morcom (McLaren 650S GT3) | 1:32.237 |
| 10 | K.Quinn /M. Whiddett (McLaren 650S GT3) | 2:12.545 |
| 11 | S. Richards /M.Twigg (BMW M6 GT3) | 1:31.840 |
| 12 | D.Bilski /G.Tander (Audi R8 GT3) | 1:31.939 |
| 13 | M. Griffith /J.Perkins (Mercedes SLS GT3) | 1:31.954 |
| 14 | A. Samadi /T.D'Alberto (Audi R8 Gt3) | 1:32.000 |
| 15 | G.Taylor /N.Antunes (Audi R8 GT3) | 1:32.016 |
| 16 | R.Moore /T.Longhurst (Aston Martin Vantage GT3) | 1:32.266 |
| 17 | L.Talbot /J.Fouracre (Audi R8 GT3) | 1:32.332 |
| 18 | A.Deitz /C.McConville (Ferrari 458 GT3) | 1:32.724 |
| 19 | S.Ellingham /T.Miles (Audi R8 GT3) | 1:32.751 |
| 20 | P.Edwards /G.Smythe (Ferrari 458 GT3) | 1:32.919 |
| 21 | A.Macphereson /B.Shiels (Porsche GT3-R) | 1:33.944 |
| 22 | C.Proctor /A.Porter (Nissan GT-R GT3) | 1:34.226 |
| 23 | N.Chester /J.De Veth (Chevrolet Camaro GT3) | 1:34.472 |
| 24 | S.Fillmore /D.Stutterd (Ferrari 458 GT3) | 1:35.174 |