New open-wheel category to replace Aus F3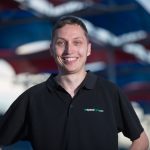 A new multi-class open wheel category to replace the Australian Formula 3 Premier Series is set to launch next year.
The new series is expected to cater for a range of single-seaters up to two litres in engine capacity, featuring Formula 3, Toyota Racing Series, Formula Renault, Formula BMW and Formula 1000 cars.
The Confederation of Australian Motor Sport (CAMS) has confirmed a promoter has been sought to run the Formula Libre-style series, which is expected to feature predominantly on the Shannons Nationals bill.
Speedcafe.com understands that Formula 3 cars are likely to form the bulk of the field with the cars to compete in an F3 branded class.
Other eligible single-seater variants will compete in a multi-class structure.
Australian Formula 3 has struggled for numbers in recent seasons and lost its championship status as part CAMS' new structure announced last year.
Formula 3 was set to morph into a state level series from 2017 as part of CAMS' vision.
CAMS General Manager of Motor Sport Michael Smith believes the Formula Libre concept is a logical step for Formula 3 to continue in Australia next season.
"We have selected a preferred promoter and we are just working through the contract at the moment," Smith told Speedcafe.com.
"The promoter will run a series of events next year. They will run a number of rounds on the Shannons Nationals program and they might also do a couple of other rounds elsewhere.
"We need to provide a place for existing Formula 3 cars and any new ones that come into the category, so we felt the creation of this category is a way of doing that.
"It opens up the scope bring new cars in but as to what happens to Formula 3, it is too hard to say at the moment."
The creation of the new single seater category arrives as discussions continue with the FIA to form a regional Asia Pacific Formula 3 Championship.
Initially tabled for a 2017 launch, plans have halted while CAMS and the FIA continue to work on a feasible, cost effective concept.
"There are a lot of balls in the air with what the FIA want to do," added Smith.
"Once they have decided what they want to do, we need to assess to see if there is any merit in doing what they want to do here.
"It (Asia Pacific F3) is not dead in the water.
"We have had a number of discussion with the FIA about it. We have a got a view on what it needs to be.
"This region is very cost sensitive. What they think we will work in Europe might not work in this region, so we have to be really careful.
"The FIA is quite far down the track with what the regional F3 concept will look like.
"We think that the cost of that needs to be brought down a bit more. Once we get that right we can work on the logistics."