Caruso looks to learn from Simmons in GT-R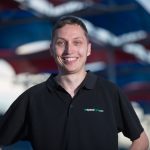 Michael Caruso expects to be guided by gamer turned racer Matt Simmons this weekend when the pair make their Australian GT Endurance Championship debut at Hampton Downs.
The penultimate round of the series at the newly reconfigured 3.8km New Zealand circuit will see Caruso make his GT racing debut as part of a Nissan Australia's plan to contest the Hampton Downs 101 (October 28-30) and Highlands 101 (November 11-13) events.
Nissan Supercars driver Caruso enters the meeting with limited experience of the car, having previously conducted a run at Japan's Fuji International Speedway in 2015 ahead of two tests at Phillip Island this year.
The opportunity to race the GT-R is a long awaited moment for the 33-year-old after a late driving seeding change ruled him out of this year's Bathurst 12 Hour.
Teaming up with Australian GT Academy winner Simmons, Caruso admits he will be learning from his relatively inexperienced team-mate, who has been piloting a factory GT-R GT3 in the Blancpain Endurance Series.
Stan Sport is the only way to watch every round of Speedseries. Click here for all the action streaming ad-free, live and on demand.
"I can't wait to get behind the wheel of that Nissan GT-R with Matt (Simmons) who has done a great job overseas this year," said Caruso.
"He is more familiar with the car than I am, so maybe he can teach me a thing or two.
"It was great to test one of the cars in Japan last year and I drove the GT-R at Phillip Island recently, but racing it is what we all do this for and I can't wait for Hampton Downs this weekend.
"Australian GT has attracted a lot of great cars and drivers for the final two events of the season, so it is certainly going to be a challenge, but I feel that we have a great car, crew and driver line-up to be competitive."
The pair are expected to be among the front-runners in the 27 car field confirmed for the Hampton Downs 101 despite being levied with a hefty 90 second compulsory pit stop time due to their driver rankings.
Caruso has been issued with the top Pro1 grading while Simmons, who made his competitive motor racing debut this year, has been given a Pro5 rating.
Given his experience of the car in GT3's elite series, Simmons, who will also make his Australian GT debut, is confident heading into the Hampton Downs 101.
"Excited would be an understatement. I have not stopped smiling at the thought of racing close to my home country," said Simmons.
"The chance to take part in Australia's biggest GT championship and also debut the NISMO GT-R GT3 in NZ is an amazing opportunity and experience to finish my debut racing year.
"It's another stepping stone in my racing career that I want to make the most of.
"We had a very positive test day at Philip Island that we learned a lot from as a team so we are ready to hit the ground running at the new Hampton Downs layout.
"We will definitely be giving it everything and learning as quickly as we can with the aim to hopefully be spraying some champagne."
Nissan will also be represented by a Kiwi-based, privately run GT-R GT3 piloted by Clark Proctor and Andrew Porter.
CLICK HERE for the Hampton Downs 101 entry list.