Utes racer receives GC600 exclusion, $10K fine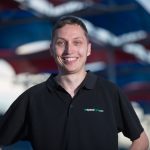 V8 Utes racer Peter Burnitt has been excluded from the Castrol Gold Coast 600 meeting and fined for causing a seven car pile-up that forced officials to abandon the final race.
Burnitt was found guilty of reckless driving and fined $10,000 of which $7,500 is suspended until December 31 next year.
He was deemed to have breached CAMS Race Meeting Standing Regulations article 7.2 and CAMS National Competition Rule (NCR) 183, which refers to overtaking, car control and track limits and reckless driving.
The Queensland-based Utes regular made contact with the rear of Cam Wilson's Ford on lap 4 on the entry to Turn 13, which forced him into the wall sparking a multiple car accident.
Danny Buzadzic, Bruce Oaklands, Nandi Kiss, Craig Woods and Maxim Erickson were all caught up in the crash which blocked the track and forced officials to abandon the race.
Burnitt had earlier finished 12th and sixth in the previous two races, although these results will now be scrubbed following the exclusion.
The V8 Utes Racing Series heads to Sydney Olympic Park for its final round from December 2-4.