Ricciardo laments costly VSC intervention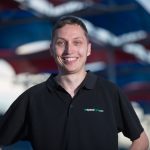 Daniel Ricciardo believes an ill-timed Virtual Safety Car period cost him a genuine chance to finish second in the United States Grand Prix.
The Red Bull driver jumped Nico Rosberg to hold second behind Lewis Hamilton on the opening lap and appeared to have the measure of the Mercedes driver in the first portion of the race.
The Australian's pace on the super-softs forced Rosberg into an alternate tyre strategy with the German set to rejoin behind Ricciardo after his scheduled second stop, albeit with fresher rubber for the final laps.
However, a Virtual Safety Car (VSC) to retrieve a stricken Max Verstappen (Red Bull), played into the hands of Rosberg, who was effectively awarded a free stop and rejoined ahead of Ricciardo.
Left to settle for third behind Rosberg and race winner Hamilton, Ricciardo was frustrated that the VSC denied him an opportunity to fight for second.
"We seemed to be, at that stage, able to hold on to second," said Ricciardo when asked about the first half of the race.
"With the VSC, we lost 10 seconds to Nico, so I believe after the pitstops we would have had five seconds on him.
"But after the pitstops, he had close on five seconds on me, so that was frustrating.
"It would have been interesting, even if he caught me at the end, to at least have a fight.
"The race became a bit not-that-exciting after the VSC, without it, it would have made it a bit more spicy at the front.
"Unfortunately third was the outcome but it's still nice to be on the podium. It's a cool place, I've always loved it here."
Ricciardo's seventh podium of the season has further cemented his third spot in the championship standings ahead of this weekend's Mexican Grand Prix.