Slade hails 'crazy' Bathurst 1000 recovery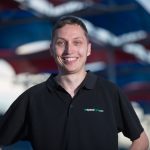 Tim Slade hailed a remarkable Supercheap Auto Bathurst 1000 comeback drive to seventh having fallen two laps down after a pitlane fire ruined a promising podium challenge.
The South Australian and co-driver Ash Walsh had proved to be a genuine contender having vaulted the #14 Brad Jones Racing Commodore from fifth on the grid to second in the early stages.
However, a strong start from Slade and an impressive stint from Walsh unravelled on lap 54 when a fire broke out while undergoing a routine brake pad change.
Brake fluid ignited after Slade was told to pump the brakes before the switch had been successfully completed, resulting in the car being wheeled into the garage.
The Winton race winner thought his day was over having returned to the fray two laps adrift of the leader.
However, a succession of Safety Cars coupled with smart strategy calls saw Slade return to the lead lap, finding himself in 12th with 20 laps remaining.
While declaring his car had the pace to be on the podium, Slade praised the team's persistence in assisting his recovery through the field.
"I'm happy with our recovery and to do what we did was pretty crazy," Slade told Speedcafe.com
"We had a fairly speedy car and at the time I thought the show was over but Brad Jones remained positive.
"I was asking if there was any point in saving tyres or putting Ash (Walsh) in for some more laps.
"When you know you are two laps down it is not a very nice feeling to have.
"I thought the brakes were taking longer than usual to be changed and pump up. When I saw the smoke I knew something was wrong.
"It was a miscommunication. One of the lads on the brake pliers had a little bit of trouble, so he moved the pliers and the car controller thought he was done and told me to pump the pedal.
"The guys knew what we had to do to get our laps back and we did exactly that and we got lucky.
"We definitely got what we could from a pretty bad situation.
"I think we had the speed to be on the podium but so did other guys that didn't finish in the top three.
"Based on the speed of the car there was definitely a better result available."
Although disappointed to witness a podium chance evaporate, the 31-year-old is confident the team will learn from its pitstop error for future endurance races.
"To have a good result at Bathurst and the other endurance races you have to be on top of every single aspect and that just caught us out," he added.
"I'm sure we will learn from it and it won't happen again."