Dumbrell blocks out fan radio distraction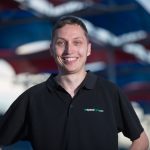 Paul Dumbrell emerged victorious in the Dunlop Series 250km mini enduro despite being distracted by a spectator who tapped into his radio frequency.
The Eggleston Motorsport driver struggled to maintain his focus when his radio transmitted messages from a fan, overriding contact from his team.
Dumbrell admitted it was a bizarre situation that left him on edge, although he was able to ignore the messages to record a third win in the Dunlop Series 250km mini endruro.
It wasn't the only issue that struck Dumbrell as a throttle position problem saw him restricted to half power on the opening lap.
"There was a guy jumping on the radio while I was at different places at the circuit," Dumbrell told Speedcafe.com.
"It was really sketchy but he was just chatting to his mate in the campground.
"It was a completely new thing to happen, I have never experienced anything like it. It was not the most ideal situation.
"It was really hard to deal with the problem as you are focussing and then the radio cuts in and you don't know if it is the team warning you about a crash ahead (or the fan).
"Through the race I had to take the punt there wasn't a crash and it was just old mate wanting to chat to his mate to get him a cold lager."
Able to soak up a comfortable victory, Dumbrell says a third Dunlop Series 250km triumph is a great achievement as he prepares to join Jamie Whincup for Sunday's 161 lap classic.
"Any race around here no matter what class it is is great to win and it is great to do that against some awesome competition in an older car," he added.
"I think the (Red Bull) car is ok, it is not the nicest car around here, but it is very quick and hopefully come Sunday the track will come to us."