Mawson eyes Euro F3 move after Monza test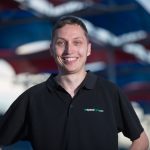 Joey Mawson has his eyes firmly fixed on a switch to the FIA European F3 Championship next season following a positive test at Monza.
The newly crowned ADAC German Formula 4 champion joined top Dutch squad Van Amersfoort Racing for a two-day Formula 3 test at the renowned Italian circuit this week.
The 20-year-old from Sydney impressed on his second outing in Formula 3 machinery as he traded fastest times with the highly rated Toyota Racing Series and Formula Renault 2.0 champion Lando Norris.
Mawson felt he adapted quickly to the Dallara F3 car with his only previous experience being in the wet at the Red Bull Ring.
"Formula 3 is definitely the aim for 2017," said Mawson.
"It's now about getting everything in order to make that happen.
"I got a bit of a taste of an F3 car last year in a test day but it was wet for the majority of the day, now with two full days in dry conditions I feel like I was really able to show some good potential.
"The cars themselves are about 10 seconds a lap faster than the F4 cars I've been racing but I feel as though I adapted very well.
"To be able to mix it with drivers who had more F3 experience than me at the top of the timesheets was very pleasing.
"It was also great to be able to work with the team on improving the car during the day.
"During the test I was able to refine my technique and I really felt comfortable by the end of the two days."
Mawson will remain in Europe until December when he will return to Australia for the Christmas break.