V8 Utes drivers pay tribute to Luke Spalding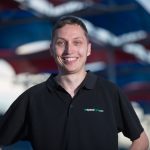 V8 Utes competitors are paying tribute to the late Luke Spalding at the Supercheap Auto Bathurst 1000.
The 18-year-old from Brisbane raced in the V8 Utes Racing Series this season, running with the Siders Racing Team.
Illness curtailed his running earlier this year although Spalding had hoped to make his racing return at Bathurst before the former Australian Formula 3 National Class champion succumbed to cancer last month.
The V8 Utes Racing Series is remembering the courageous teen by displaying "we fly with 23" stickers on every Ute, referencing Spalding's previous race number.
David Sieders said Spading's loss has hit his team hard admitting it will be emotional weekend for the squad.
In mark of respect, the Sieders Racing Team will wear black armbands while Utes front-runner David Sieders will run Spalding's nickname "Princess" above his own moniker on the windscreen of his entry.
"I'm ready doing it for Luke (Spalding) this weekend," Sieders told Speedcafe.com.
"It happened at the time when we were racing at Sandown I got the win for him in the Toyotas down there and hopefully I can do the same for him here.
"He was a lovely guy and what he was able to do under his condition was mind boggling. He was a special kid that is for sure."