Aussie to make Formula V8 3.5 debut at Jerez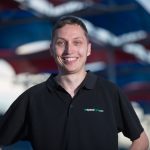 Australian single seater racer Thomas Randle will join the renowned Comtec Racing squad to contest the penultimate round of the Formula V8 3.5 Championship in Jerez.
The 20-year-old from Melbourne will graduate to the series, formerly known as Formula Renault 3.5, following a successful maiden season in Europe.
Randle scored two wins on his way to fourth in the BRDC British Formula 3 Championship for Douglas Motorsport.
The former Australian Formula Ford Series winner is a familiar face at Comtec Racing having worked as a data engineer at the British operation alongside his racing commitments.
Keen to progress to Formula V8 3.5 next season, the recently announced BRDC Rising Star is eager to showcase his skills driving for the 2006 championship winning squad.
The category has helped several drivers progress to Formula 1 including Daniel Ricciardo, Kevin Magnussen and Carlos Sainz.
Randle will join up with team for a test at Spain's Jerez circuit next month before the championship round from October 28-30.
The drive arrives just a week after securing a one-off British Prototype Cup outing in a Douglas Motorsport Ligier LMP3 sportscar.
"I'm incredibly excited and fortunate to be racing in the Formula V8 3.5 category after my successful debut season racing internationally," said Randle.
"I've been working at the team as a data engineer this year and helping out where I can, so when the opportunity to drive the car presented itself I as good as begged the team to put me in the seat.
"It has been a dream of mine to drive a Formula Renault 3.5 (now Formula V8 3.5) and to finally get the opportunity to not only test, but to contest a full race meeting is just amazing.
"Comtec were a very successful team in what was previously known as the World Series by Renault 3.5, winning the championship in 2006 and enjoyed enormous success, so I know that I'm going to be working with a world-class team.
"It will also be my first time driving a car with DRS and hopefully I can acclimatise to the car as quickly as possible."
Comtec Racing team boss Phil Blow is confident Randle will adapt to the more powerful Formula V8 3.5 car with ease.
"Tom is a very exciting young driver and has done very well in his first year in Europe," said Blow.
"Obviously this is a big jump for him, but we feel that it shouldn't be a major problem.
"We've worked with him for a little while now and we got on really well very quickly, so it should be really good to work with him on a different level."