Walkinshaw confirms Courtney, Pye for 2017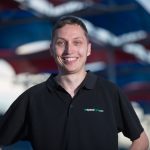 Walkinshaw Racing has confirmed James Courtney and Scott Pye as its driver line-up to contest next year's Supercars Championship.
As previously reported, 2010 Supercars champion Courtney will remain at the Clayton squad and will be joined by new recruit Pye, who arrives from DJR Team Penske.
The announcement leaves current Walkinshaw driver Garth Tander without a seat at the operation next season.
Courtney has signed a new three-year deal at the Holden team which will stretch until the end of 2019.
THE FINAL RACE OF THE 2023 REPCO SUPERCARS CHAMPIONSHIP ON ONE OF THE WORLD'S BEST STREET CIRCUITS. GO ALL IN AT THE VAILO ADELAIDE 500, CLICK HERE TO BUY TICKETS
The Gold-Coast-based racer had been tempted by an offer to race in Japanese GT but says he has unfinished business in Supercars with Walkinshaw Racing.
"When I first came to Walkinshaw Racing I set myself the goal to win another championship with this team and I'm even more determined now to achieve that," said Courtney.
"Everyone in the team, from engineering staff to management and commercial, have all put a ridiculous amount of effort into preparing my car and giving me the opportunity to win races.
"I've also put a lot of blood, sweat and tears into this team and would hate it if I walked away from here and someone else rolled in and started getting all the success we have worked so hard for.
"The first contract I signed with the team I did with Tom (Walkinshaw) and he saw me as the guy to help bring the team back to where it needed to be, so I made the commitment to him that I would do everything I could to help him, and now Ryan, achieve that.
"I certainly believe it's possible to win another championship here.
"If I didn't think that, then I wouldn't still be here – I'm as loyal, committed and enthusiastic about the future of the team as I have ever been."
Meanwhile, South Australian, Pye, has penned a multi-year agreement with the squad after losing his drive at DJR Team Penske to Scott McLaughlin next year.
The 26-year-old will relocate to Melbourne to ease his transition to Walkinshaw Racing.
"When the opportunity came up to sign with Walkinshaw Racing it's something I didn't have to think too long about," said Pye.
"Since joining the championship in 2012 I haven't really had any real continuity and I'm excited about having the next three years locked away and knowing that I will be working with the same group of people.
"It's a team that has proven what they are capable of and even this year there has been some tough times, but the way they have turned it around has been impressive."
Team owner Ryan Walkinshaw believes securing the driver-line up was a crucial step for the team as it looks to rebuild after losing factory support from Holden.
He has also thanked Tander for his 12-year stint at the operation, which includes 50 wins and two Bathurst 1000 victories.
"There will be many changes and exciting announcements for the team in the coming months and the first key element was securing competitive drivers," said Walkinshaw.
"James was offered substantial deals from other teams down pit lane and abroad, and we are thrilled that he decided to stay with us and be part of our exciting future.
"Scott brings new energy and ideas, and has demonstrated he can mix it with the best in Supercars.
"Garth was our longest ever serving driver and achieved an incredible amount of success for the team including 50 race wins, 26 pole positions, 72 podiums, two Bathurst wins and a Driver's Championship.
"He will always be considered a brother to the Walkinshaw family and we wish him the very best of luck with his future."