Formula E reveals New York street circuit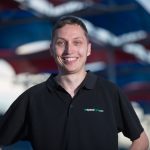 The FIA Formula E Championship's New York season finale will take place on a street circuit with the Statue of Liberty and Lower Manhattan as its backdrop.
Event organisers revealed a 1.9km track, situated in Brooklyn, which will host the July 29-30 double-header as the American city joins the Formula E calendar for the first time.
The circuit, subject to FIA homologation, will see the cars navigate a 13-turn course around Pier 11 and the Brooklyn Cruise Terminal.
The New York City ePrix will be the first FIA-sanctioned open-wheel race to take place within the five boroughs of New York City in modern history.
"To race in New York City is a historic moment – not only for Formula E, but for motorsport in general – and again highlights the philosophy of Formula E to bring fully-electric racing to the world's greatest cities," said Formula E boss Alejandro Agag.
Stan Sport is the only way to watch every round of the Formula E. Click here for all the action streaming ad-free, live and on demand.
"When we originally started the project we could only dream of bringing Formula E to a place like New York, with arguably the most recognisable skyline of any city in the world.
"I'd like to thank everyone involved in helping bring Formula E to New York for many years to come."
"Just being able to bring a motor race to the heart of a great city like New York is already an amazing achievement in itself," added FIA President Jean Todt, who attended yesterday's launch.
Reigning Formula E champion Sebastien Buemi believes the circuit will be one of the most spectacular on the calendar.
"New York is one of the world's great cities. I think it will be an amazing event, particularly with that backdrop," said Buemi.
"I can't wait to race there – I expect it's going to be one of the most spectacular tracks we have been to so far.
"Formula E is always pushing the boundaries with where we go and, along with Hong Kong, Paris and Berlin, we can genuinely say we have the most exciting calendar ever seen in motorsport."
VIDEO: Formula E launches the New York City ePrix
FIA Formula E Championship Season 2016/2017 Calendar
Rd 1 – Hong Kong ePrix – October 9
Rd 2 – Marrakech ePrix – November 12
Rd 3 – Buenos Aires ePrix – February 18
Rd 4 – Mexico City ePrix – April 1
Rd 5 – TBA – April 22
Rd 6 – Monaco ePrix – May 13
Rd 7 – Paris ePrix – May 20
Rd 8 – Berlin ePrix – June 10
Rd 9 – TBA – June 24
Rd 10 – Brussels ePrix – July 1
Rd 11 – Montreal ePrix – July 15
Rd 12 – Montreal ePrix – July 16
Rd 13 – New York ePrix – July 29
Rd 14 – New York ePrix – July 30