Jacobson wins chaotic Dunlop Series heat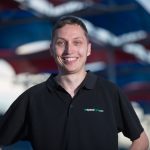 Garry Jacobson took advantage of final lap contact between Todd Hazelwood and title rival Jack Le Brocq to inherit the victory in a drama-filled Dunlop Series opener at Sandown.
The Prodrive Racing driver held second for much of the race after side-to-side contact with Le Brocq at Turn 1 allowed Hazelwood through to the lead at the start.
While Hazelwood opened a healthy gap, all eyes turned to the battle for second as Le Brocq recovered from dropping to fourth to pile the pressure on Jacobson.
As the laps ticked by the pair managed to reel Hazelwood in to create a three car battle for the lead.
Although, Jacobson soon found himself demoted to third as Le Brocq completed a robust move on his team-mate at Turn 4.
However, the complexion of the race changed when the Safety Car was deployed when Anton De Pasquale, who held 10th, locked the rear and slid into the Turn 9 gravel trap.
Le Brocq made a strong restart but misjudged his braking for Turn 1 which saw him touch Hazelwood, forcing the pair off the road, handing Jacobson the lead.
The move allowed Jacobson through to a comfortable win while Muscat, who ran a lonely race in fourth, was promoted to second with Eggleston Motosport's Paul Dumbrell in third.
Shae Davies came through an eventful race in fourth having occupied sixth behind Dumbrell for a large part of the running.
Taz Douglas was another to make the most of a chaotic finish to convert his 13th grid start to a fifth place finish ahead of Kurt Kostecki.
Hazelwood brought his Matt Stone Racing Commodore to the flag in seventh after he looked certain to score a maiden Dunlop Series victory.
Darwin teenager Bryce Fullwood enjoyed a eventful race to finish eighth, while Le Brocq and Andrew Jones rounded out the top 10.
James Golding was left to rue a brake lock up at Turn 9 early in the race, as he slipped from a promising top 10 to finish 12th, behind Adam Marjoram and Josh Kean, who suffered a spin at Turn 1.
Chelsea Angelo's Dunlop Series return ended in disappointment after retiring with a mechanical issue.
The Matt White Motorsport racer was earlier awarded a drive-through penalty for causing contact with Jake Kostecki at Turn 1 on lap 2.
Kostecki joined Angelo, Alex Rullo and De Pasquale as retirements from the encounter.
The Dunlop Series returns for a second 22 lap race at 1520 local time.
Result: Dunlop Series Race 1
| | | | | | |
| --- | --- | --- | --- | --- | --- |
| 1 | Challenger Valve Racing | Garry Jacobson | Ford Falcon FG/X | 21 | 28:14.132 |
| 2 | Wilson Security PAYCE GRM | Richard Muscat | Holden Commodore VF | 21 | 28:14.991 |
| 3 | Eggleston Motorsport | Paul Dumbrell | Holden Commodore VE2 | 21 | 28:15.654 |
| 4 | DavBridge Constructions /MWM | Shae Davies | Ford Falcon FG | 21 | 28:17.104 |
| 5 | Eggleston Motorsport | Taz Douglas | Holden Commodore VE2 | 21 | 28:17.549 |
| 6 | Kostecki Brothers Racing | Kurt Kostecki | Holden Commodore VF | 21 | 28:17.647 |
| 7 | iSEEK Communications | Todd Hazelwood | Holden Commodore VF | 21 | 28:18.184 |
| 8 | Middy's Electrical /MWM | Bryce Fullwood | Ford Falcon FG | 21 | 28:18.909 |
| 9 | GoGetta Racing | Jack Le Brocq | Ford Falcon FG/X | 21 | 28:19.134 |
| 10 | Alliance Truck Parts Racing | Andrew Jones | Holden Commodore VF | 21 | 28:19.753 |
| 11 | Auto One | Adam Marjoram | Ford Falcon FG | 21 | 28:20.007 |
| 12 | Wynn's Racing | Josh Kean | Holden Commodore VF | 21 | 28:20.411 |
| 13 | Wilson Security PAYCE GRM | James Golding | Holden Commodore VF | 21 | 28:20.735 |
| 14 | PAYCE | Macauley Jones | Holden Commodore VF | 21 | 28:21.456 |
| 15 | Cavalier Homes | Matthew Chahda | Ford Falcon FG | 21 | 28:21.639 |
| 16 | Team Caltex | Renee Gracie | Ford Falcon FG | 21 | 28:22.068 |
| 17 | STR Towing Equipment | Mathew Palmer | Ford Falcon FG | 21 | 28:22.770 |
| 18 | LMF Constructions | Marcus Zukanovic | Ford Falcon FG | 21 | 28:22.986 |
| 19 | Eggleston Motorsport | Liam McAdam | Holden Commodore VE2 | 21 | 28:23.182 |
| DNF | Castrol Racing/Performance Wes | Alex Rullo | Holden Commodore VF | 18 | 22:19.130 |
| DNF | Paul Morris Motrosports | Anton de Pasquale | Ford Falcon FG | 16 | 19:21.253 |
| DNF | Wilson Medic One / MWM | Chelsea Angelo | Ford Falcon FG | 11 | 14:07.292 |
| DNF | Kostecki Brothers Racing | Jake Kostecki | Holden Commodore VF |  7 |  8:43.925 |