Dumbrell avoids carnage to win Dunlop Race 2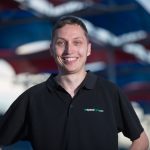 Paul Dumbrell avoided a carnage filled opening lap to score victory in the second Dunlop Series race that saw Garry Jacobson assume the points lead.
Dumbrell inherited the lead from Jacobson after Richard Muscat, who initially held sway at the start, locked a brake and went wide at Turn 1.
However chaos ensured behind with a six car shunt involving Matt Chahda, title rival Jack Le Brocq, Andrew Jones, Renee Gracie, Adam Marjoram and Bryce Fullwood.
The incident was triggered by contact between Marjoram and Chahda on the front straight that sent the latter into the air after striking the inside kerb at Turn 1.
Chahda's airborne Falcon clattered into Bryce Fullwood, Le Brocq and Andrew Jones, sending the cars deep into the Turn 1 gravel trap.
Gracie was also caught up having been left nowhere to go while Todd Hazelwood retired with damage picked up following the accident.
The Safety Car was immediately deployed sparking a lengthy clean up process with several cars suffering heavy damage.
Dumbrell emerged in the lead on the restart with Jacobson in hot pursuit of the Eggleston Motorsport VE Commodore.
The pair battled hard during the closing stages which resulted in contact between the duo at Turn 9 on the final lap.
Dumbrell held on to take the win from the new series leader, who just pipped Taz Douglas to second.
A strong drive from Kurt Kostecki saw the teenager claim fourth ahead of Shae Davies.
James Golding came out on top in the battle of the Garry Rogers Motorsport runners as Muscat salvaged seventh after his opening lap mistake.
Macauley Jones finished eighth while Dunlop Series rookies Anton de Pasquale and Chelsea Angelo completed the top 10.
The Dunlop Series returns for a third 22 lap race on Sunday.
Result: Dunlop Series Race 2
| | | | | | |
| --- | --- | --- | --- | --- | --- |
| 1 | Eggleston Motorsport | Paul Dumbrell | Holden Commodore VE2 | 16 | 26:55.3642 |
| 2 | Challenger Valve Racing | Garry Jacobson | Ford Falcon FG/X | 16 | 26:56.0035 |
| 3 | Eggleston Motorsport | Taz Douglas | Holden Commodore VE2 | 16 | 26:56.0336 |
| 4 | Kostecki Brothers Racing | Kurt Kostecki | Holden Commodore VF | 16 | 26:57.0275 |
| 5 | DavBridge Constructions /MWM | Shae Davies | Ford Falcon FG | 16 | 26:58.1943 |
| 6 | Wilson Security PAYCE GRM | James Golding | Holden Commodore VF | 16 | 26:58.5751 |
| 7 | Wilson Security PAYCE GRM | Richard Muscat | Holden Commodore VF | 16 | 26:58.8120 |
| 8 | PAYCE | Macauley Jones | Holden Commodore VF | 16 | 27:03.2089 |
| 9 | Paul Morris Motrosports | Anton de Pasquale | Ford Falcon FG | 16 | 27:05.1305 |
| 10 | Wilson Medic One / MWM | Chelsea Angelo | Ford Falcon FG | 16 | 27:12.0247 |
| 11 | LMF Constructions | Marcus Zukanovic | Ford Falcon FG | 16 | 27:13.0131 |
| 12 | Team Caltex | Renee Gracie | Ford Falcon FG | 16 | 27:21.3602 |
| 13 | Kostecki Brothers Racing | Jake Kostecki | Holden Commodore VF | 16 | 27:22.0746 |
| 14 | STR Towing Equipment | Mathew Palmer | Ford Falcon FG | 16 | 27:23.0442 |
| 15 | Wynn's Racing | Josh Kean | Holden Commodore VF | 16 | 27:27.5980 |
| 16 | Castrol Racing/Performance Wes | Alex Rullo | Holden Commodore VF | 16 | 27:37.0279 |
| DNF | Eggleston Motorsport | Liam McAdam | Holden Commodore VE2 |  6 | 15:04.2762 |
| DNF | iSEEK Communications | Todd Hazelwood | Holden Commodore VF | | |
| DNF | Auto One | Adam Marjoram | Ford Falcon FG | | |
| DNF | GoGetta Racing | Jack Le Brocq | Ford Falcon FG/X | | |
| DNF | Middy's Electrical /MWM | Bryce Fullwood | Ford Falcon FG | | |
| DNF | Alliance Truck Parts Racing | Andrew Jones | Holden Commodore VF | | |
| DNF | Cavalier Homes | Matthew Chahda | Ford Falcon FG | | |