Drift star Whiddett to make GT debut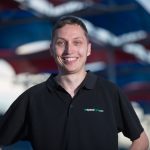 Drift racer 'Mad Mike' Whiddett will make his circuit racing debut in the third round of the Australian Endurance Championship at Hampton Downs next month.
The Kiwi will swap his RADBUL Mazda MX5 for a McLaren 650S alongside former Australian GT champion Klark Quinn for the Hampton Downs 101 at the newly revamped Auckland venue.
The 101 lap race will be Whiddett's first experience of circuit racing having spent his career competing in the drifting scene.
To ease his transition into he circuit racing the 35-year-old has enlisted the services of Supercars star Shane van Gisbergen.
The Red Bull Racing star oversaw Whiddett's recent laps of the circuit behind the wheel of the venue's Lamborghini road car.
Stan Sport is the only way to watch every round of Speedseries. Click here for all the action streaming ad-free, live and on demand.
"It's a new challenge for me and one I'm really looking forward to," said Whiddett
"I couldn't ask for anyone better to teach me the ins and outs of circuit racing.
"Me and Shane both have hectic schedules so as soon as Quinny (Tony Quinn) gave me the opportunity to drive in the GTs I was straight on the phone to Shane.
"It turned out that we were both here in NZ so it was awesome to get out to the track and get his advice while also getting a few laps under my belt in the Hampton Downs Lamborghini.
"I'm used to pushing it, going all out but have quickly realised it's all about technique and consistency.
"Slow down to go faster was the best bit of advise from SVG. Slower into the corners and faster out is the key."
Quinn has every confidence Whiddett will be more than capable behind the wheel when the pair team up at Hampton Downs.
"Mike has had plenty of experience going fast and his car control is second to none so I think the biggest challenge will be getting the car setup properly to suit him," said Quinn.
"Spending time in the driver's seat is vital and his practice time in the McLaren will be limited but it will be fascinating to see how he transitions from flying sideways in his drift car to driving one of the fastest production cars in the world."