Academy needed for Aussie female Supercars talent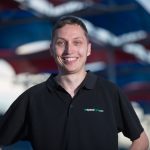 Leanne Tander has called for Supercars to create an academy to nurture female racers in Australia following the announcement that Simona de Silvestro will join the category in 2017.
Tander has hailed the commitment from Supercars to offer the former IndyCar racer de Silvestro a three-year full-time contract as a landmark moment for women in Australian motorsport.
The move looms as a potential publicity bonanza for the category, which debuted its Harvey Norman-backed Supergirls project to much fanfare at Bathurst last year.
Competing in the Development Series and as an endurance co-driver last decade, the 36-year-old Tander has long championed the cause for female drivers in Supercars.
THE FINAL RACE OF THE 2023 REPCO SUPERCARS CHAMPIONSHIP ON ONE OF THE WORLD'S BEST STREET CIRCUITS. GO ALL IN AT THE VAILO ADELAIDE 500, CLICK HERE TO BUY TICKETS
While de Silvestro's presence will undoubtedly inspire young female karters, Tander hopes Supercars can put a structure in place to develop young Australian talent that can emulate the Swiss import.
The Supergirls Bathurst program also includes 21-year-old Queenslander Renee Gracie, who graduated through karting and Carrera Cup with the help of the now defunct Fujitsu Cool Driver Program.
"To see the way the category is getting behind women in motorsport is fantastic," Tander told Speedcafe.com.
"The fact it is a three-year commitment will give girls in the lower ranks of the sport someone to emulate and the belief they can get there.
"It would be awesome if Supercars were able to find a sponsor (for drivers) and start a program in karts to identify talented drivers and half guide them through the ranks.
"Too often girls get pulled into something different. Sometimes they are racing and doing really well in karts and then they get dragged into a category too early where they are out of their depth.
"We should have some sort of academy or a program that does identify talented female racers at junior levels that helps drivers learn all the skills required.
"It is hard in Australia as there are only 26 drives at the top level, so it is going to take a while before we have a couple of girls in there.
"There needs to be a lot more girls racing in the lower ranks before they appear at the top."
Tander feels de Silvestro's drive will help change perceptions surrounding women in motorsport which in turn could create more opportunities for aspiring young drivers.
"Overall there needs to be a shift in the culture and hopefully this does lead to everybody in the industry changing their attitudes," added Tander.
"It is interesting for Australia and I'm excited because America has obviously been on board with this for a while and even Europe with DTM and a number categories.
"People need to give talented drivers regardless of their gender a proper opportunity to go racing.
"When I was in karts there would be boys racing and their sisters sitting on the side watching because families didn't see motor racing as a viable sport for their daughter.
"I think this will encourage other teams (to consider female drivers).
"Hopefully people will see Simona, and if she does perform well, it will greatly help shift people's attitudes towards female drivers. At the moment they are all written off as being unable to do it.
"Look at Chelsea Angelo. She has broken lap records, she has won races and she is a great driver, but people are not willing to give her a chance."
Meanwhile, Tander has every confidence that de Silvestro will succeed in Supercars but says she will need time to like any rookie to make her mark.
"I think it will be tough as it is tough for anyone stepping up to Supercars to perform straight away," she added.
"I think any good driver will pick it up and I expect by the end of the second year we will start to really see her potential and her ability.
"There are going to a few guys that will not want her to beat them so she is probably going to have a few DNFs in the first 18 months.
"Hopefully by then they will get over it and she can can show what she is worth."