Campbell wins Carrera Cup Aus/Asia Pro race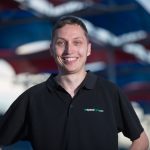 Matt Campbell produced a lights-to-flag drive to win the combined Carrera Cup Australia/Carrera Cup Asia race for professional drivers at Sydney Motorsport Park.
After recording a clean sweep of the two Carrera Cup Australia championship races, the Queenslander produced another dominant display to see off the best drivers from both Australia and Asia.
Campbell faced a brief challenge from Carrera Cup Asia series star Maxime Jousse on the opening lap as the pair went side-by-side into the first corner.
However, the McElrea Racing driver quickly asserted his authority on the race by taking the lead at Turn 2.
Once ahead he produced a measured drive to the chequered flag, but was unable to relax with Nick McBride in hot pursuit.
Starting from fifth, McBride made light work of David Wall at the start before passing Carrera Cup Asia round winner Mitchell Gilbert and Jousse.
Despite showcasing impressive pace, he couldn't launch a serious attack on Campbell as he fell 0.8s shy at the flag.
A storming run from seventh saw Alex Davison claim the final spot on the podium after making decisive moves on Gilbert and Jousse early in the race.
Ash Walsh ensured the top four positions were held by Carrera Cup Australia drivers, with Jousse the best Asian runner in fifth.
Dean Fiore came through to finish sixth ahead of the Malaysian-born Australian Gilbert, who had earlier won both Carrera Cup Asia championship races.
Austrian Carrera Cup Asia driver Martin Ragginger, Wall and Dylan O'Keefe completed the top 10.
Former Carrera Cup Australia champion Steven Richards could only manage 12th, while Carrera Cup Asia championship leader Nico Menzel finished in 17th position.
Duvashen Padayachee was the only retirement from the race, exiting the heat after seven laps.
VIDEO: Campbell speaks after the race

Result: Porsche Carrera Cup Asia and Australia Professional Race
| | | | | | |
| --- | --- | --- | --- | --- | --- |
| 1 | Nuveau Constructions / Phase 8 | Matt Campbell (QLD) | Porsche 911 GT3 Cup | 10 | 15:29.4035 |
| 2 | Bob Jane T-Marts | Nick McBride (VIC) | Porsche 911 GT3 Cup | 10 | 15:30.2925 |
| 3 | Wilson Parking | Alex Davison (QLD) | Porsche 911 GT3 Cup | 10 | 15:39.2035 |
| 4 | Bob Jane T-Marts / Infants Fri | Ash Walsh (QLD) | Porsche 911 GT3 Cup | 10 | 15:39.6846 |
| 5 | Kamlung Racing | Jousse Maxime (FRA) | Porsche GT3 Cup | 10 | 15:43.2663 |
| 6 | Saint/Porsche Centre Melbourne | Dean Fiore (WA) | Porsche 911 GT3 Cup | 10 | 15:49.8785 |
| 7 | Absolute Racing | Mitchell Gilbert (AUS) | Porsche GT3 Cup | 10 | 15:50.7039 |
| 8 | Team Porsche Holding | Martin Ragginger (AUT) | Porsche GT3 Cup | 10 | 15:51.0984 |
| 9 | Wilson Security | David Wall (NSW) | Porsche 911 GT3 Cup | 10 | 15:51.3078 |
| 10 | Allstar Equipment / Dexion Sup | Dylan O'Keeffe (VIC) | Porsche 911 GT3 Cup | 10 | 15:51.5432 |
| 11 | Copyworld | Michael Almond (SA) | Porsche 911 GT3 Cup | 10 | 15:53.9377 |
| 12 | Laser Plumbing and Electrical | Steven Richards (VIC) | Porsche 911 GT3 Cup | 10 | 16:03.5610 |
| 13 | Porsche China Junior Team | Andrew Tang (SGP) | Porsche GT3 Cup | 10 | 16:05.4247 |
| 14 | Horsley Park Gunshop | James Abela (NSW) | Porsche 911 GT3 Cup | 10 | 16:05.8421 |
| 15 | Fun88 Team Sunfonda | Da Sheng Zhang (CHN) | Porsche GT3 Cup | 10 | 16:07.2091 |
| 16 | Preston Hire | Fraser Ross (VIC) | Porsche 911 GT3 Cup | 10 | 16:12.2805 |
| 17 | PICC Team StarChase | Nico Menzel (DEU) | Porsche GT3 Cup | 10 | 16:12.7218 |
| 18 | Team Jebsen | Yue Cui (CHN) | Porsche GT3 Cup | 10 | 16:13.1128 |
| 19 | Zheng Tong Auto | Jinlong Bao (CHN) | Porsche GT3 Cup | 10 | 16:16.7496 |
| 20 | CIP/GWR | Garth Walden (NSW) | Porsche 911 GT3 Cup | 10 | 16:20.5595 |
| DNF | Darrell Lea STIX | Duvashen Padayachee NSW | Porsche 911 GT3 Cup |  7 | 11:44.4352 |