HRT back to business with chassis shakedown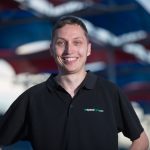 Less than a week after confirmation that it will lose its factory backing at season's end, the Holden Racing Team has returned to track action with a shakedown of Garth Tander's new Commodore.
The Clayton outfit successfully rolled out a new chassis which Tander will campaign for the first time at this weekend's Red Rooster Sydney Super Sprint.
The car is likely to be the last to be debuted by the team under the HRT banner, which it has campaigned since 1990.
Tander paid tribute to his squad for completing the build and maintaining its focus amid a trying period.
The 2007 Supercars champion expects the news won't affect preparations or mindset heading into the final sprint round prior to the Pirtek Enduro Cup.
"We go to every event trying to win the race so I don't think there will be any more determination," Tander told Speedcafe.com.
"The guys in the race team have got their heads down and are determined to do a good job regardless of what is going on externally and this weekend will be no different.
"To be honest I was at the factory the day after the announcement and you couldn't tell any (different).
"We have a great bunch of guys and they are aware that all that stuff is out of their hands and they just focus on doing their jobs."
Tander enjoyed a relatively trouble-free shakedown at the rural Victorian circuit today although rain saw the 39-year-old complete the majority of the permitted 60km in slippery conditions.
HRT has introduced a new chassis for Tander after he reported "weird" characteristics from his previous car, which had been crashed heavily at Bathurst in 2014.
The Supercars veteran admits its difficult to tell if the new car is a step forward, but was happy with his initial run.
"I reckon we did 16 laps in the wet and it was cold up there so lap times were meaningless," added Tander.
"The day was exactly what it was meant to be which was to make sure the car is ready for this weekend.
"Every weekend is an acid test regardless of which chassis we are using.
"The expectation is we will be further up the grid because of a new chassis and we hope this will help us a bit over the journey.
"To have a new car is always nice and the guys have done a really good job so it is more a credit to them than anything else."
Looking to the future, Tander, who is out of contract at the end of the season, says there hasn't been any progression in extending his stay at the team.
"I think Ryan (Walkinshaw) and Adrian (Burgess) are pretty busy at the moment," said Tander of his own future.
"There hasn't been much progression but that is not to be unexpected. When the time is right we will sit down and discuss the future."
Team 18 also shook down a new chassis today, with Lee Holdsworth cutting his first laps since suffering extensive injuries in June.
CLICK HERE for Speedcafe.com's separate story.